 I never think to cook with wheat berries, but every time I have them I'm won over by their flavor and texture. It's an interesting grain that works well as a side dish to almost any meal. This recipe for a wheat berry, smoked gouda salad is packed with olives, walnuts, and parsley.
If you're looking for a new side dish to add to your repertoire, then give this one a try. Just be warned, it takes a bit of prep as the berries need to be soaked overnight and the olives need twenty four hours to marinate. To get the recipe, please
.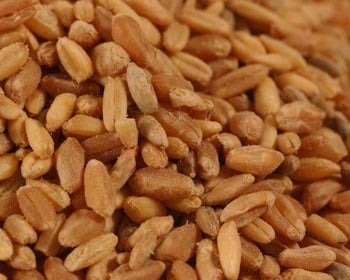 Ingredients
Marinated Olives:
1 cup green olives, drained and olives halved (retain 2 tablespoons brine)
2 shallots, minced
2 tablespoons olive brine
1 tablespoon lemon juice
zest of 1/2 lemon, minced
olive oil, to cover
Wheat Berries:
1 cup uncooked hard winter wheat berries
5 cups water
3/4 teaspoon sea salt
1 bay leaf
1 cup smoked Gouda, cubed
marinated olives (from above), drained (retain 2 tablespoons marinade)
2 tablespoons marinade
1 tablespoon lemon juice
1/4 cup walnuts, toasted and chopped
3 tablespoons parsley, chopped
Directions
To marinate the olives, combine all ingredients in small glass bowl, cover, and marinate overnight in refrigerator.
Rinse wheat berries and place in bowl.
Cover with 2 inches water and let soak overnight.
Boil water with salt in large saucepan.
Add drained wheat berries and bring to boil.
Reduce heat to simmer, add bay leaf and cover.
Stirring occasionally, cook wheat berries for 55–65 minutes or until they are tender but still chewy, adding more water if needed.
Remove Gouda and marinated olives from refrigerator and let come to room temperature while wheat berries cook.
Drain wheat berries and immediately toss with Gouda.
Mix in remaining ingredients and serve.
Serves 4.
Information
Category

Side Dishes, Grains