S'mores Snack Mix Recipe
A Bonfire Treat Transformed: S'mores Snack Mix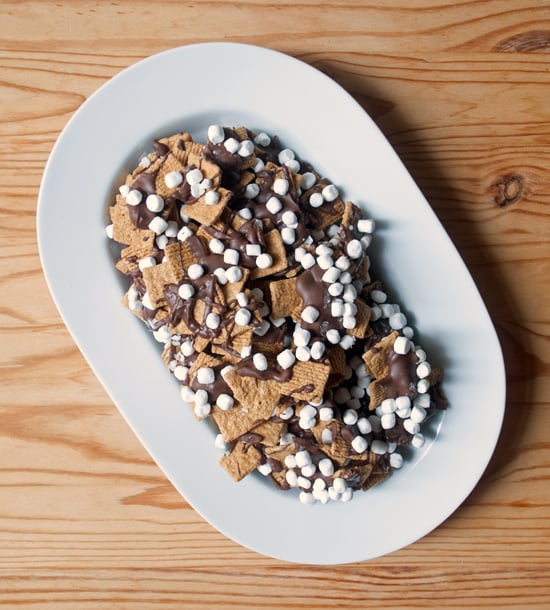 The change of seasons may bring to mind shorter hemlines and a rededication to the gym, but it also means that the opportunity to indulge in a favorite balmy-weather treat — s'mores — is just around the corner. Sadly, it's not quite prime bonfire and grilling weather yet, even in Northern California, so I've come up with a fix to tide us over till then: a s'mores-inspired snack (OK, dessert) mix.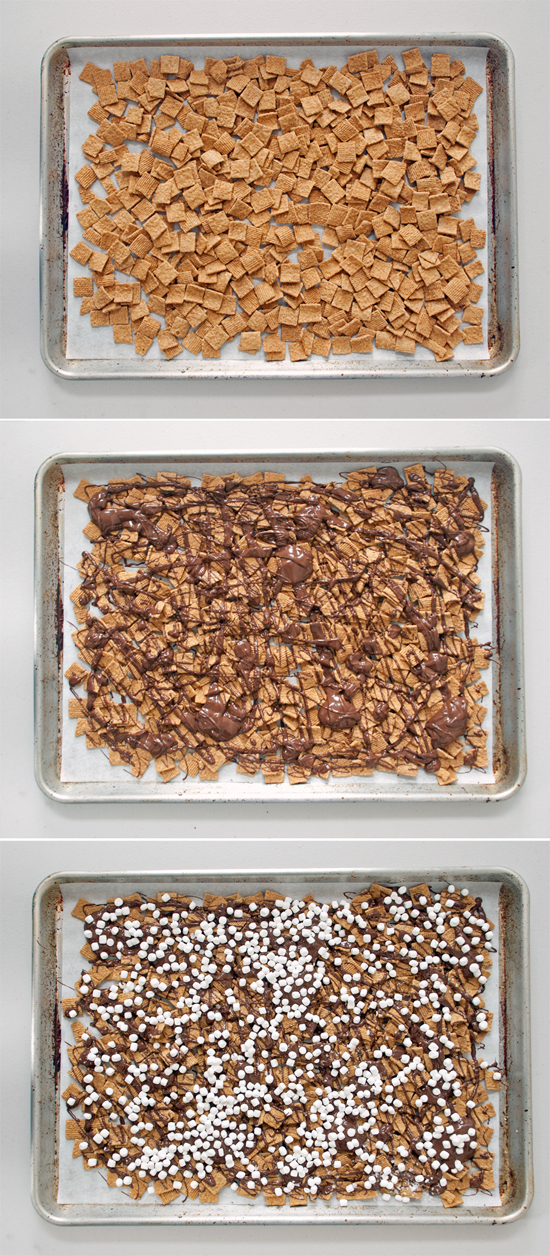 Now, I'd like to take credit for this rather clever idea, but that would be disingenuous; inspiration first struck after tasting a sample of Mama Mellace S'mores Snack Mix at the Fancy Food Show. Tasty, but a hair too sweet, and lacking the salty-sweet punch I so crave, this snack mix was on the right track but not quite as delightful as it could be. So, like any good test cook, I set out to re-create it the way my taste buds intended.
I may have a raging sweet tooth but still found Mama Mellace's version to be overwhelmingly sugary, so inspired by a favorite higher-cacao milk chocolate, I doctored the mellow milk-chocolate drizzle that binds it all together with a handful of dark chocolate. A pinch of flaky sea salt and a generous handful of itty-bitty marshmallows rounded out the experiment, and just like that a devilishly good treat was born.
S'mores Snack Mix
From Nicole Perry, POPSUGAR Food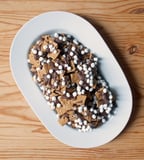 Ingredients
4 cups Golden Grahams cereal
5 ounces milk chocolate, such as Dove, chopped
1 1/2 ounces bittersweet chocolate, chopped
1/4 teaspoon flaky sea salt
1 heaping cup mini marshmallows
Directions
Line a half-sheet pan with parchment paper or silpat.
Melt the chocolate in a double boiler. Meanwhile, spread the Golden Grahams out in a single, even layer covering the surface of the prepped half-sheet pan.
Drizzle the chocolate (as evenly as possible) over the cereal. Sprinkle with flaky sea salt and the marshmallows.
Allow to cool completely, then break into pieces and devour or store in an airtight container.
Information
Category

Desserts, Mixes

Cuisine

North American

Yield

About 7 cups of snack mix