Snacks at Fast Food Restaurants
Hey, Fast Food: What's With All the Snacks?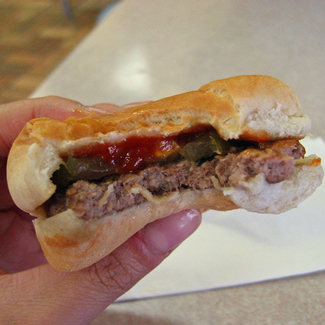 Remember BK Burger Shots, Burger King's attempt to roll out mini hamburgers? Well, the fast food chain has announced today that it's bringing them back, along with other finger foods, like petite-sized breaded chicken sandwiches.
The press release positioned BK Minis as perfect during mini golf or on a minibreak. But I'd like to know: what's the real reason behind this new fast food trend of all things mini? After all, Burger King's simply the latest of a slew of chains to roll out graze-worthy offerings to fast food diners.

McDonald's advertises an extensive line of "Go Wraps," Dunkin' Donuts has its new Hearty Snacks Menu, and even Starbucks has come out with snack-sized Bistro Boxes.
Maybe it's just me, but I'm somewhat bewildered by this sudden surge of snack options. It's not often that I pop into Burger King when I'm craving an afternoon snack; I'd be much more inclined to grab a bag of pretzels from the corner bodega instead. Are fast food snacks going to catch on, or are they destined for failure?