Soup's On: Corn and Roasted Red Pepper Rainbow Soup
Soup's On: Corn and Roasted Red Pepper Rainbow Soup I first learned about rainbow soups while reading The New Basics. Since then, I make them all the time! A rainbow soup is basically two different soups that when combined, make one delicious dish. This version features a cooling corn soup and a spicy red pepper puree. The recipes are so simple — minimal chopping, few ingredients — it's not that much harder than making one soup. Ok yes, you do have to wash two pots, but the final result is rewarding, delicious, and totally worth it. This soup would make a stunning starter to an arty dinner. To see how I made it,
.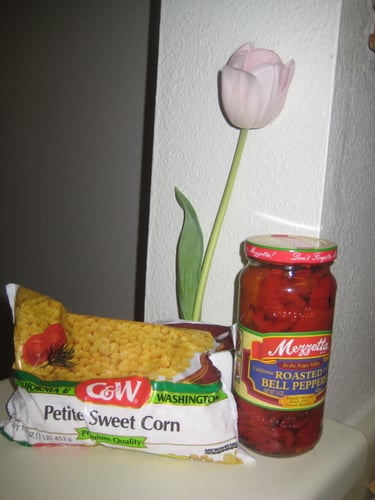 Corn and Roasted Red Pepper Rainbow Soup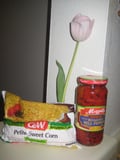 Ingredients
4 tbsp. unsalted butter
1 onion, finely chopped
4 garlic cloves, finely chopped
One 16-oz. package frozen corn kernels, thawed
One 16-oz. jar roasted red peppers, undrained
1/2 cup salad croutons, plus more for garnish
1 tsp. ground cumin
Two 14-ounce cans chicken or vegetable broth
1/2 cup sour cream
Salt and freshly ground pepper
Hot sauce
Directions
In each of 2 medium saucepans, heat 2 tablespoons butter over medium-low heat.

Add half of the onion and garlic to each pan and cook, stirring frequently, until softened, about 7 minutes.

Add the corn to one pan, and add the roasted red peppers with their brine along with the croutons and cumin to the other pan.

Add 1 can chicken broth to each pan and bring to a boil. Reduce the heat and simmer both soups, stirring occasionally, for 20 minutes.

Stir the sour cream into the corn soup.

Using a hand blender, puree each soup in its pan; season to taste with salt and pepper.

Season the pepper soup with hot sauce to taste.

To serve, using two measuring cups, pour the soups simultaneously into opposite sides of each bowl; top with croutons.
Serves 4.
Information
Category

Other, Soups/Stews