 Today marks the first day of Spring and the last day of my Winter soup-making series. I wanted to go out with an exceptionally superb soup, but like my father and the Rolling Stones said, "You can't always get what you want."
I'd been holding on to this recipe for a while and hoped it would create a brilliantly purple soup. Unfortunately, I failed to realize that naturally, the radicchio would brown while cooking. Luckily, the soup had a wonderfully comforting, robust flavor and delicious, lush taste. The radicchio is mild and the final product is very similar to French Onion soup with radicchio in place of the onions. To see how it's made,
.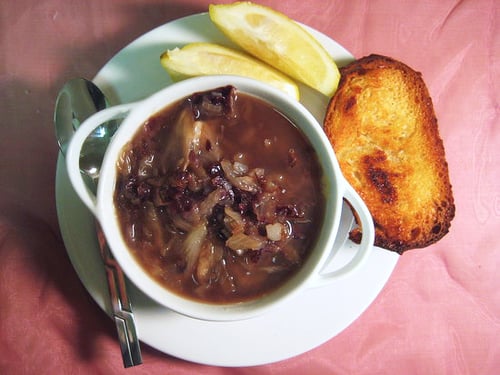 Ingredients
3 tbsp. olive oil
1 small yellow onion, diced
1 medium potato, peeled and finely diced
salt and black pepper to taste
8-10 ounces radicchio, about 6 cups, sliced thin
4 cups chicken stock, beef stock, or vegetable stock
1 1/2 cups grated Parmesan cheese
4-6 slices sourdough bread, toasted
lemon wedges, for serving
Directions
Put the oil in a large soup pot and heat over medium-low heat until warm.
Add the onion and saute for about 10 minutes until soft.
Add the potato and stir constantly for 2 minutes. Season with salt and pepper.
Add radicchio and saute, stirring until it just wilts. Season.
Pour in stock and 2 cups water. Simmer gently until potatoes are just tender, 8-10 min.
Using potato masher or immersion blender, mash or puree part of the soup. Don't worry too much about this — it is rustic soup.
Taste and correct seasonings. Divide the cheese among 4-6 bowls. Ladle soup over cheese, drizzle with oil if desired and serve with the toasted bread and lemon wedges.
Serves 4-6.
Information
Category

Soups/Stews, Stock/Broth

Cuisine

North American