Southern-Style Biscuits
The Carriage House: Home to Hot and Flaky Southern-Style Biscuits
In the South, homemade biscuits are a staple for any household or Southern restaurant. Natchez, MS, a small town on the Mississippi River, is known for its Antebellum homes and unbeatable Southern cuisine. Stanton Hall, an official National Historic Landmark and one of the largest and most prominent Natchez mansions, was built in 1858. On the grounds of Stanton Hall, toward the back of the estate, is a restaurant called Carriage House, which serves some of the best biscuits in town.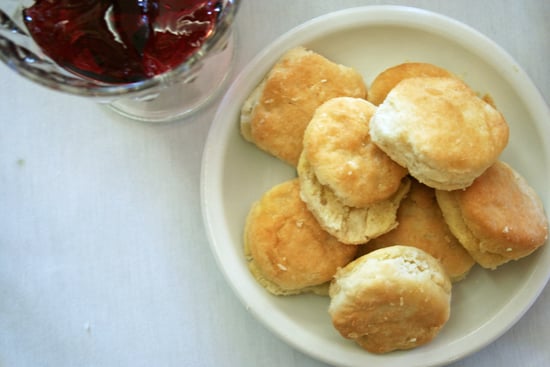 The Carriage House has served residents and visitors alike since 1946, and a typical Carriage House lunch might consist of fried chicken, mashed potatoes, and mustard greens — served alongside biscuits, of course. Between 400 to 1,000 biscuits are baked for the Carriage House every day, and they're always served piping hot and crispy, with melted butter and a mild apple jelly. The biscuits are piled high on a platter, and asking for biscuit refills is just about as popular as asking for tea refills.
For a taste of Natchez in your own home, get recipe for Carriage House biscuits.
Ingredients
2 cups all-purpose flour
4 teaspoons baking powder
1/4 teaspoon salt
5 tablespoons vegetable shortening
1/4 to 1 cup cold milk
Butter and/or jelly, for serving
Directions
Preheat oven to 400ºF. In a large bowl, sift together the flour, baking powder, and salt. Cut the shortening in with 2 knives until the mixture resembles fine bread crumbs. Stir in the milk 1/4 cup at a time until you have sticky dough.
Turn dough out onto a well-floured surface; knead as little as possible; and roll lightly to a 1/4-inch thickness. Cut biscuits with a small (2-inch diameter) biscuit cutter or a small, cleaned tomato paste can.
Spray a cookie sheet with nonstick baking spray or grease lightly with shortening. Place the biscuits with edges not touching on the prepared pan. Brush tops with milk. Bake until biscuits are puffed and slightly golden, about 9-12 minutes.. Remove immediately, split, and butter while hot.
Makes 12-18 biscuits.
Information
Category

Breads, Biscuits

Cuisine

North American