Southern Thanksgiving Menu and Recipes
Come Party With Me: Southern Thanksgiving — Menu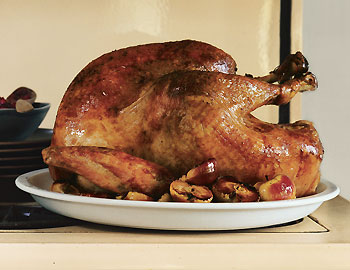 Right now it seems as if every chef is looking to the South for inspiration. So why not take a tip from the likes of Alton Brown and John Besh and serve a Thanksgiving meal that oozes with Southern charm? Plan a dinner that highlights simple and delicious cooking. Start with an unfussy roast turkey recipe that's seasoned with lots of salt and pepper and served with a rich turkey gravy.
Keep things uncomplicated and bake an oyster dressing with bacon and hot sauce outside of the bird. It's spicy, bready, and deliciously briny. Whip up a batch of mashed potatoes loaded with sour cream and white cheddar cheese. Finally, round out the menu with a bourbon-cranberry compote. It's the perfect sweet-tart accompaniment to succulent turkey. To be inspired by this collection of curated recipes, keep reading.
Simple Roast Turkey With Rich Turkey Gravy
From Gourmet
Ingredients
1 (16-lb.) turkey at room temperature 1 hour, any feathers and quills removed with tweezers or needlenose pliers, and neck and giblets removed and reserved for another use if desired
1 tablespoon salt
1 3/4 teaspoons black pepper
2 cups water
7 to 8 cups turkey stock
1 stick (1/2 cup) unsalted butter
3/4 cup all-purpose flour
1 1/2 to 2 tablespoons cider vinegar
Directions
Make turkey: Put oven rack in lowest position and preheat oven to 450 degrees F. Rinse turkey inside and out, then pat dry. Sprinkle turkey cavities and skin with salt and pepper. Fold neck skin under body and secure with metal skewers, then tie drumsticks together with kitchen string and tuck wings under body.
Put turkey on rack in roasting pan. Add 1 cup water to pan and roast without basting, rotating pan halfway through roasting, until thermometer inserted into fleshy part of thighs (test both thighs; do not touch bones) registers 170 degrees F, 2 1/4 to 2 3/4 hours.
Carefully tilt turkey so any juices from inside large cavity run into roasting pan, then transfer turkey to a platter, reserving juices in roasting pan. Let turkey stand, uncovered, 30 minutes (temperature of thigh meat will rise to 180 degrees F).
Make gravy while turkey stands: Pour pan juices through a fine-mesh sieve into measuring cup (do not clean roasting pan), then skim off and discard fat. (If using a fat separator, pour pan juices through sieve into separator and let stand until fat rises to top, 1 to 2 minutes. Carefully pour pan juices from separator into measure, discarding fat.)
Straddle roasting pan across 2 burners, then add remaining cup water and deglaze roasting pan by boiling over high heat, stirring and scraping up brown bits, 1 minute. Pour through sieve into measuring cup containing pan juices. Add enough turkey stock to pan juices to bring total to 8 cups (if stock is congealed, heat to liquefy).
Melt butter in a 4-quart heavy pot and stir in flour. Cook roux over moderate heat, whisking, 5 minutes. Add stock mixture in a stream, whisking constantly to prevent lumps, then bring to a boil, whisking occasionally. Stir in any turkey juices accumulated on platter and simmer 5 minutes. Season gravy with salt and pepper, then stir in cider vinegar (to taste).
Serves 12.
Information
Category

Poultry, Main Dishes

Cuisine

North American