Southwestern Tofu Scramble Recipe
Fast & Easy Dinner: Southwestern Tofu Scramble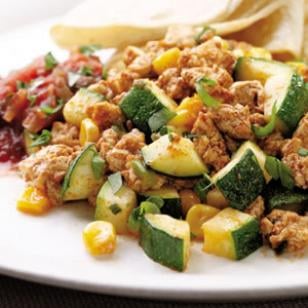 When I hear the word scramble, I automatically think of eggs. However, this vegetarian-friendly recipe replaces the eggs with crumbled tofu. The resulting dish, seasoned with chili powder and cilantro, is flavorful and hearty. Feel free to use the recipe loosely, if you prefer red peppers and mushrooms, throw those in place of zucchini and corn. For a complete balanced meal, serve the scramble with warm tortillas and black beans. To look at the savory and satisfying recipe,
.


Ingredients
3 teaspoons canola oil, divided
1 14-ounce package firm water-packed tofu, rinsed and crumbled
1 1/2 teaspoons chili powder
1 teaspoon ground cumin
1/2 teaspoon salt, divided
1 small zucchini, diced
3/4 cup frozen corn, thawed
4 scallions, sliced
1/2 cup shredded Monterey Jack cheese
1/2 cup prepared salsa
1/4 cup chopped fresh cilantro
Directions
Heat 1 1/2 teaspoons oil in a large nonstick skillet over medium heat. Add tofu, chili powder, cumin and 1/4 teaspoon salt and cook, stirring, until the tofu begins to brown, 4 to 6 minutes. Transfer to a bowl.
Add the remaining 1 1/2 teaspoons oil to the pan. Add zucchini, corn, scallions and the remaining 1/4 teaspoon salt. Cook, stirring, until the vegetables are just tender, about 3 minutes.
Return the tofu to the pan and cook, stirring, until heated through, about 2 minutes more.
Remove from the heat and stir in cheese until just melted. Top each serving with 2 tablespoons salsa and 1 tablespoon cilantro.
Serves 4.
Information
Category

Main Dishes, Tofu

Cuisine

Mexican