Soy Ginger Chicken Wings Recipe
The Wide World of Wings: Soy-Ginger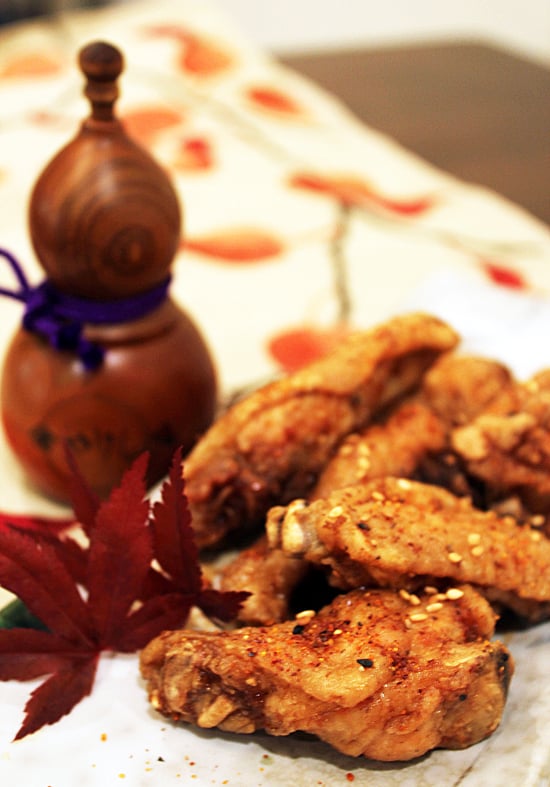 Fried chicken wings are an international phenomenon, and while we Americans perhaps can lay claim to wings as a central component of our national cuisine, more countries than you'd imagine are churning out crisp-fried poultry goodness and adding their own local flair. At izakayas (casual drinking establishments), Japan's working weary relax over sake, cold beer, and comforting late night nibbles, including sashimi, edamame, and yakitori (grilled chicken). More recently, they have added fried chicken wings to the mix, dressing them in light but delectable sauces made from Japanese kitchen staples.
This recipe blends soy sauce, sake, mirin (sweet cooking wine), garlic, and ginger with a splash of tangy vinegar to finish. Just before serving, sprinkle on some sesame seeds and — if you can find it — a blend of Japanese spices containing tingly sansho pepper, ground red pepper flakes, and dried orange peel. It pairs just as nicely with Sapporo as it does with an all-American ice-cold Bud.
Ingredients
2 pounds whole chicken wings
1/4 cup soy sauce
1/4 cup sake
1/4 cup mirin (sweet cooking wine)
4 teaspoons sugar
2 teaspoons garlic, grated
2 teaspoons ginger, peeled and grated
Vegetable oil, for frying
Salt
Freshly ground black pepper
1 tablespoon flour (plus more if necessary), for dredging
1 tablespoon cornstarch (plus more if necessary), for dredging
1 teaspoon rice vinegar
Toasted sesame seeds
Shichimi togarashi (Japanese seven spice blend), optional, for garnish
Directions
Remove the tips of the wings and discard or save for making stock. Using kitchen shears, or a knife, separate the wings at the joint. (See how to prep wings for appetizers.) Rinse wing parts under cold water and pat dry with paper towels. Lay wings in a single layer on a wax paper-lined baking sheet and place in refrigerator (uncovered) for one hour.
In a small saucepan, whisk together the soy sauce, sake, mirin, sugar, garlic, and ginger. Bring to a boil over medium-high heat, reduce heat, and simmer until alcohol evaporates and sauce reduces and thickens, about 10 minutes. Pour into a heatproof bowl, whisk in the vinegar, and set aside to let cool.
Heat oil in a dutch oven over medium heat. Remove wings from refrigerator and season on all sides with salt and pepper. Place about a tablespoon each of flour and cornstarch in a large clean plastic bag,

seal

, and shake gently to combine. Working in batches, drop a few chicken wings in the bag, and toss to coat with flour mixture. Shake off the excess before dropping each wing into the hot oil, and fry until golden brown, turning occasionally, about 5-7 minutes. Replenish the flour mixture in the bag as needed.
Transfer fried wings to a wire rack placed over a rimmed baking sheet. When wings are cooled slightly but still warm, toss them in the sauce, and pile them on a serving platter. Garnish with sesame seeds and spice blend (if using) and serve immediately.
Makes about 18 wing pieces.
Information
Category

Poultry, Appetizers

Cuisine

Japanese