Spanish Cream Cheese Canape Is a Quick One-Bite Wonder
Recently I participated in a "quickfire challenge." I was asked to concoct an amuse-bouche for 20 people. However, I didn't know anything about the group I was feeding, so the bite had to be vegetarian with universally liked ingredients. It had to be easily transportable, something that could be made in advance, and was representative of my cooking personality. The kitchen where I was to prepare the appetizer has a microwave and small toaster oven. After much deliberation, I finally decided to make these Spanish olive and cream cheese canapes because the three components — crisp toasts, a cream cheese mixture, and grated Parmesan cheese — were easy to prepare the night before the challenge. Luckily my hard work paid off: the final result was excellent! The one-bite toasts were crisp, salty, cheesy, and delicious. They would be a scrumptious start to a cocktail party or romantic dinner. Learn how to make them when you
.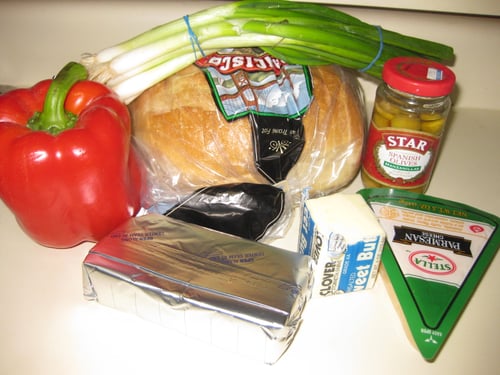 Spanish Olive and Cream Cheese Canapes
From Gourmet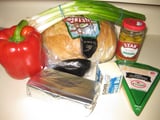 Ingredients
10 slices firm white sandwich bread
1 1/2 tablespoons unsalted butter, melted
1 oz Parmigiano-Reggiano
6 oz cream cheese, softened (3/4 cup)
1/3 cup pimiento-stuffed green Spanish olives (3 oz.), rinsed, drained, and finely chopped*
1/4 cup finely chopped scallion*
1/4 cup finely chopped red bell pepper*
1/4 teaspoon sweet paprika
2 teaspoons medium-dry Sherry
A 1 1/2-inch round cookie cutter
Directions
Put oven rack in middle position and preheat oven to 375°F.
Cut 40 rounds from bread slices with cutter, then brush 1 side of each round with butter** and bake on a large baking sheet until pale golden, about 8 minutes. (Leave toasts on baking sheet.)

Preheat broiler.
Finely grate Parmigiano-Reggiano. You should have about 1 cup.

Mash together cream cheese, olives, scallion, bell pepper, paprika, and Sherry until combined well, then top each toast with 1 teaspoon cream cheese mixture and sprinkle with Parmigiano-Reggiano.

Broil canapés about 4 inches from heat until Parmigiano-Reggiano begins to turn golden, about 1 minute.
Makes 40 hors d'oeuvres.
Make ahead: toasts can be made 1 day ahead and cooled completely, then kept in an airtight container at room temperature. Cream cheese mixture can be made 1 day ahead and chilled, covered. Bring to room temperature before using.
*I was in a hurry, so I used the food processor to quickly chop the ingredients.
**I seasoned my toasts with salt and pepper before baking them.
Information
Category

Appetizers, Crostini