Spanish Olive Oil Facts
5 Shocking Facts About Olive Oil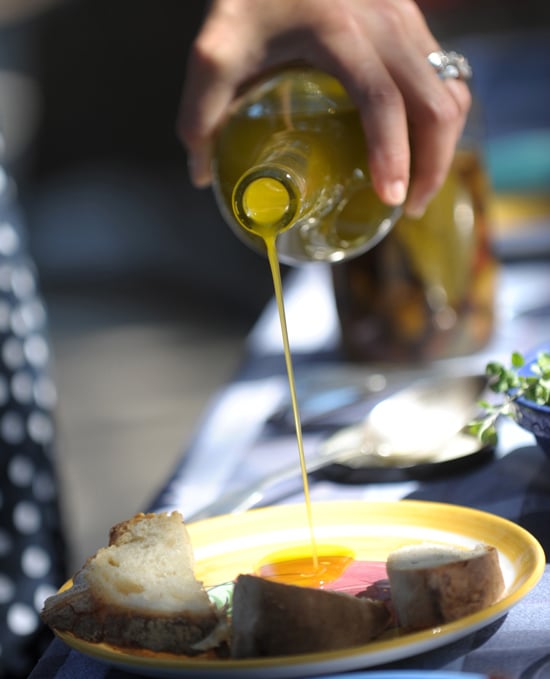 You may use olive oil in your cooking every day, but how much do you really know about it?
If you're like me, the answer is not much, as I discovered after attending a dinner held by Olive Oil From Spain. At the event, I had the opportunity to taste a number of olive varietals, from arbequina (buttery and delicate) and cornicabra (zesty) to hojiblanca (bitter almond) and picual (grassy), that showed off the oil's wide flavor range. But I also learned something else: until this point, I've been misinformed when it comes to olive oil. Here are four facts about olive oil that might surprise you.
The color of an olive oil is not an indication of its quality. It's a mistake to think a darker olive oil is of superior quality to a lighter one, and vice versa. In fact, an olive varietal's color and ripeness determines how dark and green its oil will be.
Spain is the number one producer of olive oil in the world. Although olive oil is often associated with Italian cuisine, Spain produces, on average, 48 percent of the world's olive oil, averaging one million tons of it annually.
"Light" olive oil is a marketing tool. The term "light" — popular in the US and Australia — indicates the oil is a blend of refined oil and some virgin olive oil, resulting in a milder flavor.
Bitterness is not a bad thing! In fact, amongst olive oil connoisseurs, bitterness is considered a positive attribute in a quality olive oil, along with an intensity and bite.
Peppery olive oils can withstand higher heat. That's right: if you're looking for an olive oil that'll withstand frying, opt for a varietal that's spicy over one that's mild.
If you're interested in learning even more, restaurants across the country are holding Olive Oil From Spain dinners this month. Where does your favorite olive oil hail from?