Spanish Pizza With Swiss Chard and Walnuts
Flavors of the Mediterranean: Spanish Coca With Swiss Chard and Walnuts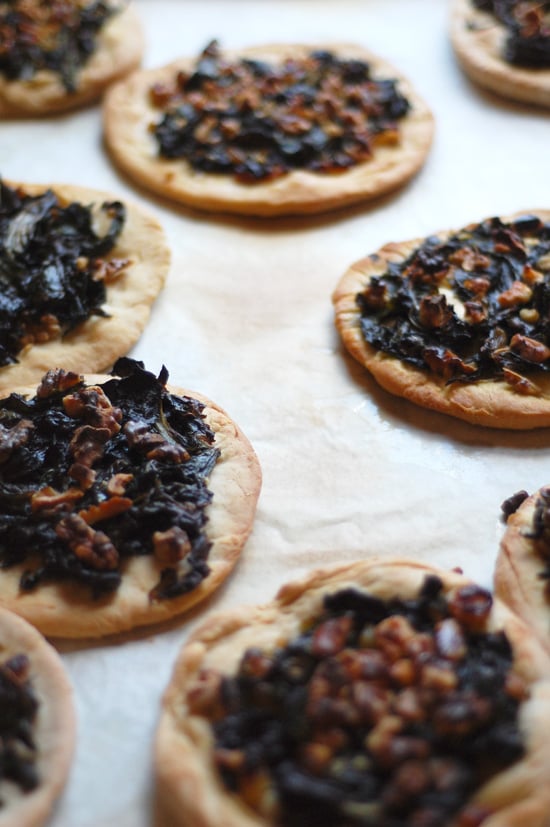 Recently, we had the chance to break bread with Chef Joanne Weir, from Joanne Weir's Cooking Class, and talk all about Mediterranean ingredients and cooking styles. One of the dishes that she taught us how to make was a Spanish coca, or pizza. The toppings were simple but satisfying: wilted chard with sweet raisins and walnuts.
The result was light and satisfying, with a great combination of sweet and salty flavors. The crunchy texture of the walnuts complemented the wilted greens really well, which served as a great reminder to use this nutritious nut more often.
The recipe includes a simple dough that requires about one hour of rising time, but feel free to use your favorite store-bought pizza dough to make life easier on yourself. Another option is to make the dough ahead of time, freeze it, then take it out to thaw the morning that you plan to make your coca.
Spanish Coca With Wilted Green, Walnuts, and Raisins
Ingredients
1 tablespoon dry yeast
2 tablespoons warm water
3 cups unbleached white bread flour
1 teaspoon salt
1 cup warm water
4 tablespoons olive oil
1/2 cup golden raisins
1/2 cup walnut halves
1 small bunch Swiss chard
4 tablespoons extra-virgin olive oil
2 cloves garlic, minced
Kosher salt and freshly ground black pepper
Directions
In a bowl, dissolve the yeast in 2 tablespoons warm water. Let stand 10 minutes until frothy. Add the flour, salt, 1 cup warm water and 4 tablespoons olive oil. Knead on a floured surface until smooth, elastic and slightly tacky to the touch, about 7 to 10 minutes. Place the dough in an oiled bowl and turn it over so that it is completely coated with oil. Cover with plastic wrap and place in a warm place. Allow to rise until double in volume, 1 to 1 1/2 hours.
Preheat an oven to 375° F. Pour 1 cup boiling water over all the raisins and let stand 15 minutes. Drain. Place the walnut halves on a baking sheet and toast until fragrant and lightly golden, about 7 minutes.
Remove the stems from the Swiss chard, wash, and spin dry well. Warm 2 tablespoons of the olive oil in a frying pan over medium high heat. Add the garlic and stir for 5 seconds. Add the Swiss chard and raisins and cook, tossing occasionally with tongs, until wilted, about 6 to 8 minutes. Season well with salt and pepper. Place a pizza stone on the bottom shelf of the oven and increase the oven temperature to 500°F.
Punch down dough and cut into 2 pieces. Flour surface and roll one piece of the dough into a long, flat oval shape, 3/8-inch thick, 8 in. x 10 in. Build up edges slightly. Place the dough on a well-floured pizza peel or paddle. Place half of the greens on the dough, distribute evenly, leaving a 1/2-inch border around the edge. Top with the walnuts and drizzle with the remaining 2 tablespoons olive oil. Bake until golden and crispy, 15 to 18 minutes.
Remove coca from pan and cut into wedges. Serve immediately or at room temperature.
Serves 6 to 8.
Information
Category

Main Dishes, Pizza

Cuisine

North American