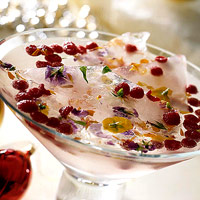 While an elegant poolside dinner may not be the most traditional of bachelorette parties, there is one classic element involved: a girlie, fizzy cocktail. Since a big group of females will be spending the weekend at a house in Calistoga, I'm going to need a large punch recipe to kick-start the festivities. Thus, I'm making this raspberry champagne punch. With vodka, orange liqueur, cherry liqueur, and sparkling wine, it's pretty potent and sure to loosen the crowd up . . . in case a stripper happens to stop by! I'll also stock up on sparkling water, white wine, and red wine.
To get the punch recipe,
.
Ingredients
Raspberry Brittle
1 cup water
1/2 cup edible flowers (such as marigolds, calendula, violas, pansies, or dianthus)
1 cup fresh raspberries
Punch
2 cups raspberry-, cherry-, or citrus-flavored vodka, chilled
2/3 cup orange liqueur
2 tablespoons kirsch
4 cups ice cubes
1 750-ml bottle sparkling wine or champagne, chilled
2 cups carbonated water, chilled (16 ounces)
Sugar (optional)
Directions
Make brittle: Pour water into bottom of 15x10x1-inch baking pan with sides (or use a 13x9x2-inch baking pan). Sprinkle surface of water evenly with about edible flowers and fresh raspberries.
Freeze 3 hours or overnight. To unmold, allow to stand at room temperature 5 or 10 minutes or until ice can be removed. Remove from pan and break into large chunks. Place in punch just before serving.
For punch: In a medium punch bowl combine vodka, orange liqueur, kirsch, and ice cubes.
To preserve carbonation, carefully pour sparkling wine or champange and carbonated water down side of bowl. If desired, sweeten to taste with a little sugar.
Top with some chunks of Raspberry Brittle. Serve each glass of punch with a piece of the Raspberry Brittle.
Serves 20.
Information
Category

Drinks, Cocktails

Cuisine

North American