Speck Salad With Apples and Arugula
Off the Bookshelf: The A.O.C. Cookbook's Speck and Apple Salad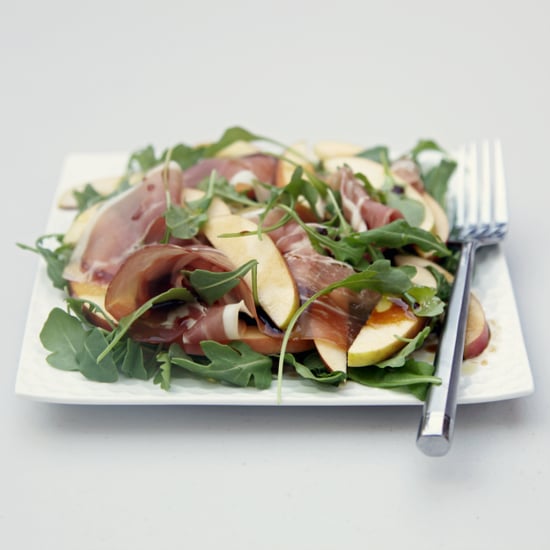 High on my running mental list of must-try restaurants sits A.O.C., Suzanne Goin's oft-praised wine and small-plates spot. Until I score a reservation, I'll sate my appetite for her elegant fare by cooking my way through The A.O.C. Cookbook, out today. Flipping through the glossy pages, it was hard to pick a place to start, but it's safe to say I chose wisely with her meat-heavy salad of speck — a smoky cured meat — apples, and arugula. Rather than a green salad garnished with speck, this appetizer is more speck garnished with arugula, straddling the line between salad and charcuterie plate (it is, in fact, from the charcuterie section of the book), making it a great option for satisfying your inner carnivore. Hungry? Try the recipe for yourself.
Notes
Substitute prosciutto for speck if you can't find the smoky cured meat.
Ingredients
3 apples, such as Pink Lady or Honeycrisp
4 ounces arugula, cleaned
18 very thin slices of speck
1/4 cup extra-virgin olive oil
2 tablespoons apple balsamic or balsamic vinegar
Directions
Core and thinly slice the apples.
Scatter most of the arugula on six dinner plates, reserving about six to eight leaves. Arrange two-thirds of the apple slices among the arugula leaves.
Drape the speck over and around the arugula and apples in a wavy manner, leaving some of the arugula peeking through. Tuck in the remaining arugula and apples to create a natural look. Drizzle the olive oil and the apple balsamic over the salad.
Information
Category

Meats, Salads

Cuisine

North American

Yield

6 servings