Spice Up Your Summer With Chili-Rubbed Pork Tenderloin It's a week into June, but judging by the number of San Franciscans huddled up in coats, you'd never have known it. Since it was too cold to be grilling and chilling outside, I opted for another meat-centric meal inspired by the fiery flavors of Southwestern cuisine.
This recipe calls for baby carrots and red jalapeños, but I didn't want to waste any of the resources I already had on hand, so I used conventional carrots and green jalapeños instead. Whatever ingredients you use, the end result is full of complex flavors. To make this for dinner,
.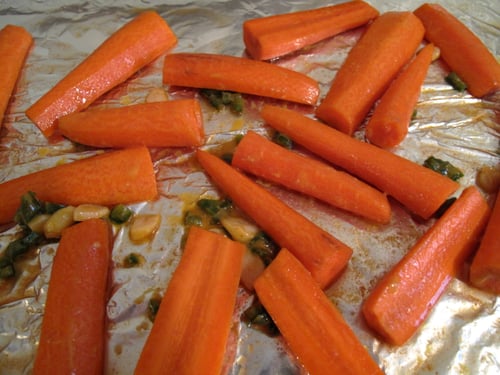 Spice-Rubbed Pork Tenderloin With Roasted Carrots
Adapted from Bon Appétit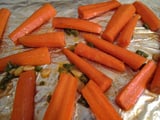 Ingredients
Carrots:
2 pounds carrots, peeled, trimmed
2 tablespoons water
1 tablespoon extra-virgin olive oil
1 tablespoon butter, diced
2 garlic cloves, thinly sliced
1 small jalapeño, seeded, coarsely chopped
1 teaspoon honey
1/2 teaspoon ancho chile powder
1/2 teaspoon ground cumin
1/4 teaspoon coarse kosher salt
Pork:
2 1- to 1-1/4-pound pork tenderloins
2 teaspoons dried oregano
2 teaspoons ground cumin
1 teaspoon ancho chile powder
1 teaspoon smoked paprika
1 teaspoon coarse kosher salt
1 tablespoon extra-virgin olive oil
Directions
Prepare carrots: Arrange carrots on large rimmed baking sheet. Whisk 2 tablespoons water and all remaining ingredients in small bowl; pour over carrots and toss to coat. Cover tightly with heavy-duty foil.
Prepare pork: Preheat oven to 400°F. Roast carrot mixture covered until just tender, about 30 minutes.
Meanwhile, arrange pork tenderloins on another rimmed baking sheet. Stir oregano, cumin, chile powder, smoked paprika, and 1 teaspoon coarse salt in small bowl; rub mixture all over tenderloins. Heat oil in heavy large nonstick skillet over medium-high heat. Add pork to skillet and cook until browned on all sides, about 5 minutes. Return to rimmed baking sheet.
Remove foil from carrots. Nestle pork among carrots on baking sheet, arranging carrots in single layer around pork. Roast uncovered until instant-read thermometer inserted into center of pork registers 145°F, stirring carrots occasionally if beginning to caramelize, about 18 minutes. Let rest 5 to 10 minutes.
Transfer pork to work surface. Cut crosswise into 1/2-inch-thick slices. Arrange carrots on platter. Top with pork slices, drizzling any pan juices over.
Serves 6.
Information
Category

Main Dishes, Pork

Cuisine

North American