Spiced Iced Coffee Recipe
Come Party With Me: Brunch For Mom — Drinks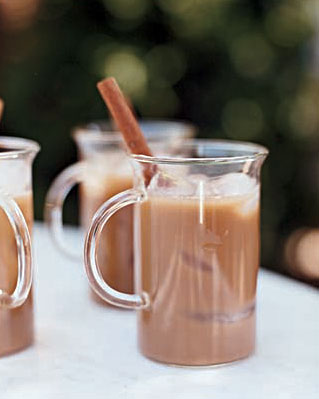 Each morning my mother, like so many people, enjoys a mug of coffee. This Sunday, at a celebratory brunch in her honor, I want to serve a simple coffee (because she is a simple lady), but not her everyday ordinary coffee. It has to be special.
With its sweetened condensed milk and cinnamon sticks, this spiced iced coffee recipe looks perfect. After we enjoy the coffee, we'll probably sip a couple of mimosas with fresh-squeezed orange juice. To look at the easy and delicious coffee recipe,
.


Ingredients
8 cinnamon sticks
6 cups brewed coffee
4 pieces star anise
1/4 cup sweetened condensed milk
Ice cubes
Directions
Fill 6 compartments of an ice cube tray with water; place a cinnamon stick in each filled compartment; freeze until solid.
In a small saucepan, simmer the coffee, star anise and the remaining 2 cinnamon sticks over low heat for 5 minutes. Stir in the condensed milk and refrigerate until cool.
Strain the coffee mixture and discard the spices. Fill 6 glasses halfway with ice cubes, pour in the coffee mixture and serve with the cinnamon ice sticks.
Serves 6.
Information
Category

Drinks, Coffee

Cuisine

North American