Spicy Bacon Spaghetti Recipe
Fast & Easy Dinner: Spicy Bacon Spaghetti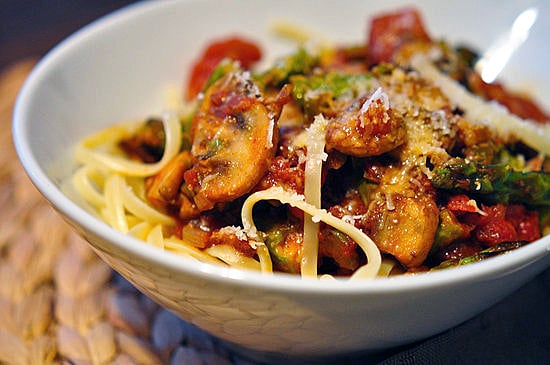 Just because you're short on time doesn't mean you shouldn't make your own pasta sauce! This quick and spicy bacon-tomato pasta sauce is chock-full of flavor and takes only about a half hour to make. I had applewood smoked bacon on hand, but next time, I will use pepper bacon to add a little more complexity to the dish. To really heat things up, I used two jalapenos with no seeds — feel free to adjust it depending on your palate. Ready to simmer your own spicy pasta sauce? Keep reading for the recipe.
Ingredients
5 ounces thick-cut bacon, sliced into quarter inch pieces
13 ounces mushrooms, trimmed and sliced
2 shallots, finely chopped
2 garlic cloves, finely chopped
1-2 fresh jalapeno, finely chopped, seeded if desired
5-7 sprigs oregano
2 14-ounce cans of diced tomatoes
salt and pepper
1 bunch of asparagus, roughly chopped
1 pound spaghetti
2 tablespoons butter
1/2 cup Parmesan cheese, finely grated
Directions
Put the bacon into a fry pan. Fry over low heat, stirring occasionally for 5-7 minutes or until the bacon is browned and the fat has rendered. Spoon off all but 3 tablespoons of fat.
Increase the heat and add the mushrooms and shallots. Cook for 3-5 minutes until the mushrooms have softened and most of the liquid has evaporated.
Add the garlic, chile, oregano, chopped tomatoes, salt and pepper. Bring to a boil, cover and simmer stirring occasionally for about 25-30 minutes until thick and rich. About ten minutes prior to sauce finishing, top with the asparagus and allow to cook. Taste as season with more salt and pepper, if needed.
While the sauce cooks down, fill a large pot with cold water and bring to boil. Add 1 tablespoon salt and cook the spaghetti until it is al dente. Drain in a colander.
In a serving bowl, add pasta and 2 tablespoons of butter and top with sauce and a sprinkling of Parmesan cheese. Serve immediately
Serves 4-6 people.
Information
Category

Pasta, Main Dishes

Cuisine

North American