Spicy Shrimp Recipe
Heat Things Up With Spicy Shrimp
If you love spicy food and you love shrimp, you have to give this recipe a try! Made with four habanero chiles, it's the real deal and so tasty you'll be licking your fingers clean. While I thought the combination of chiles, thyme, allspice, and green onions seemed a bit unusual, the resulting shrimp is perfectly seasoned and addictively good.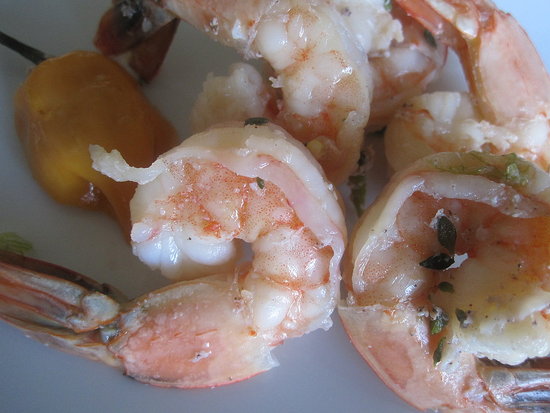 It's an exotic application that makes for a great appetizer or with rice, a scrumptious entree. Take care when handling the chiles. Once sliced, I used tongs to move them from the cutting board to the pot. Be sure to serve with a cold drink, like an icy beer or strawberry ginger caipirosca; you'll need it to wash down the heat. Check out the recipe now.
Ingredients
2 cups water
4 Scotch bonnet chiles or habanero chiles, halved
3 green onions, coarsely chopped
3 large fresh thyme sprigs
3 garlic cloves, peeled, crushed
2 tablespoons salt
1 bay leaf
1 1/2 teaspoons whole allspice
1 pound uncooked large shrimp, unpeeled
Directions
Combine water, Scotch bonnet or habanero chiles, green onions, thyme, crushed garlic, salt, bay leaf, and allspice in heavy large saucepan. Bring to boil.
Reduce heat; cover and simmer 10 minutes to blend flavors.
Add shrimp and bring to boil. Remove pan from heat; let stand until cooked through, about 20 minutes.
Drain, discarding liquid. Transfer shrimp to bowl and serve warm or at room temperature, allowing diners to peel their own shrimp.
Serves 6-8.
Information
Category

Main Dishes, Shellfish

Cuisine

Central American