Spiked Coffee Hot Chocolate Drink Recipe
Come Party With Me: Winter Weekend — Drinks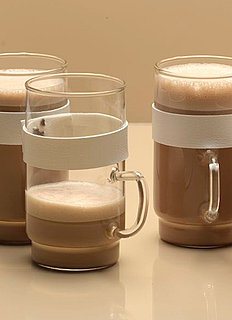 When I imagine a Winter weekend getaway, it always involves a warm cocktail like a hot-buttered rum or Irish coffee. There's something so magical about sitting by a fire watching the snow fall, while sipping on a soothing potent drink.
This Saturday, I plan on stirring up a coffee and chocolate concoction. It's spiked with brandy and sweetened with cream, sugar, and vanilla. It's important to serve in heatproof glasses or mugs.
To check out the recipe and make this for your loved ones
.


Ingredients
4 ounces unsweetened chocolate, grated
4 cups light cream
2 1/2 cups brandy
2 cups strong coffee
1 1/4 cups sugar
1 teaspoon vanilla
1 1/2 cups heavy cream, lightly whipped
Directions
In a large saucepan combine unsweetened chocolate, light cream, brandy, coffee, sugar, and vanilla. Bring the mixture to a simmer over low heat, stirring, and simmer it, stirring, until the chocolate is melted and the mixture is hot and well combined.
Fold in lightly whipped cream and divide the mixture among ten 10-ounce heatproof mugs, rinsed with boiling water.
Makes 10 drinks.
Information
Category

Drinks, Hot Drinks

Cuisine

North American