Spinach Artichoke Dip Recipe
This Spinach Artichoke Dip Is Perfect For Memorial Day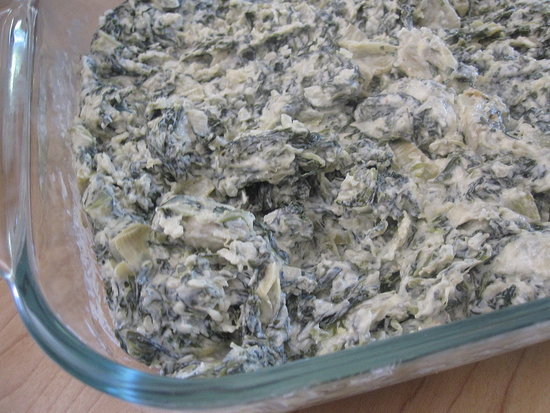 While I've already found my favorite recipe for a bubbling hot and gooey spinach-artichoke dip, the search is on for the best room temperature spinach-artichoke dip. This dip could be it: my friends loved it and there was none left, so it's definitely a keeper!
The classic recipe combines marinated artichoke hearts with frozen spinach and cream cheese. White wine makes it a little gourmet, parmesan cheese enriches the flavor, and a healthy shake of Tabasco adds heat. To test this dip out for yourself get the recipe — it would be wonderful served at a Memorial Day barbecue! — after the jump.
Ingredients
1 tablespoon extra-virgin olive oil
1 small onion, finely chopped
3 garlic cloves, very finely chopped
16 ounces marinated artichokes, drained and coarsely chopped
1/4 cup dry white wine
Two 10-ounce packages frozen chopped spinach, thawed and squeezed dry
12 ounces cream cheese, at room temperature
1/2 cup freshly grated Parmigiano-Reggiano cheese
1 teaspoon finely grated lemon zest
Tabasco
tortilla chips, crostini, or pita chips, for serving
Directions
In a large skillet, heat the olive oil until shimmering. Add the chopped onion and garlic and cook over moderate heat, stirring, until softened, about 5 minutes.
Add the artichokes and cook, stirring occasionally, until lightly browned in spots, about 5 minutes.
Add the white wine and cook until nearly evaporated. Add the spinach and cook, stirring, for 1 minute.
Add the cream cheese, Parmigiano-Reggiano and lemon zest and season with Tabasco. Cook, stirring, until the dip is creamy, about 2 minutes. Transfer to a bowl and serve warm or at room temperature with the chips or crostini.
Serves 8.

Make Ahead: The dip can be refrigerated overnight. Serve the dip at room temperature.
Information
Category

Dips, Appetizers

Cuisine

North American