Say hello to Spring [1] in one of the best ways we know how — by cooking up some delicious asparagus [2], of course. The veggie is the snappiest from March until May, so you've got a couple of months to bring all of its green goodness to your table. We already have you covered on how to prep asparagus in a flash [3], so now you can put those skills to use with these tempting dishes. Ready, set, go!
— Additional reporting by Lizzie Fuhr and Lisette Mejia
Roasted Asparagus With Sesame Wasabi Dressing
The next time you roast a bundle of asparagus, go one step further and drizzle the spears with a mouth-tingling wasabi-sesame dressing [4].
BBQ Chickpea and Crispy Polenta Bowls With Asparagus and Ranch Hummus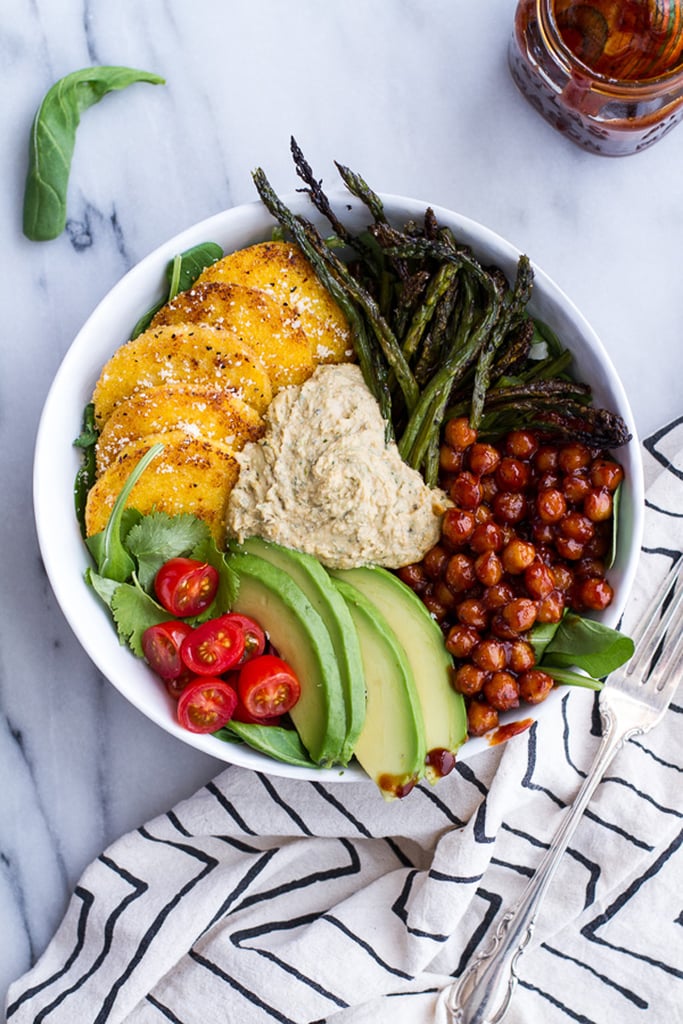 Four varieties of vegetables — asparagus, arugula, tomatoes, and avocado — round out this hearty meal in a bowl [5].
Lemony Feta and Mascarpone Pasta With Grilled Asparagus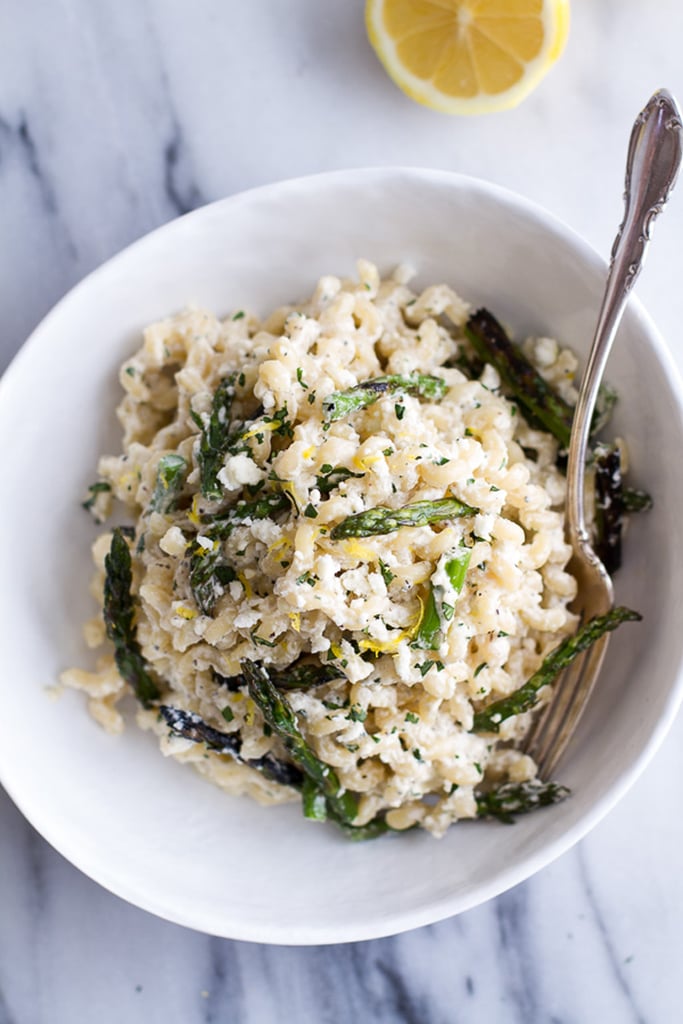 For a taste of Spring, serve up a big bowl of lemony feta and mascarpone pasta with grilled asparagus [6].
Flatbread With Herbed Ricotta, Zucchini, Asparagus, and Corn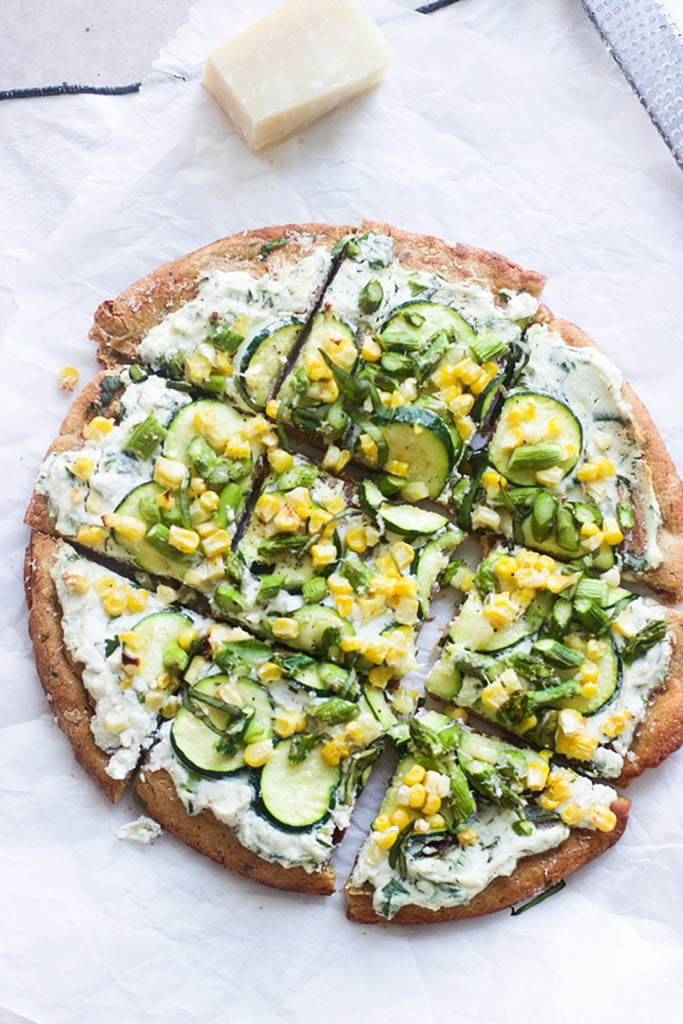 Spring (asparagus) and Summer (zucchini and corn) favorites collide in this light, bright flatbread [7] that's perfect for the transitional months of May and June.
Baked Asparagus Fries
Fulfill french fry cravings with crisp, baked asparagus fries [8].
Salmon and Asparagus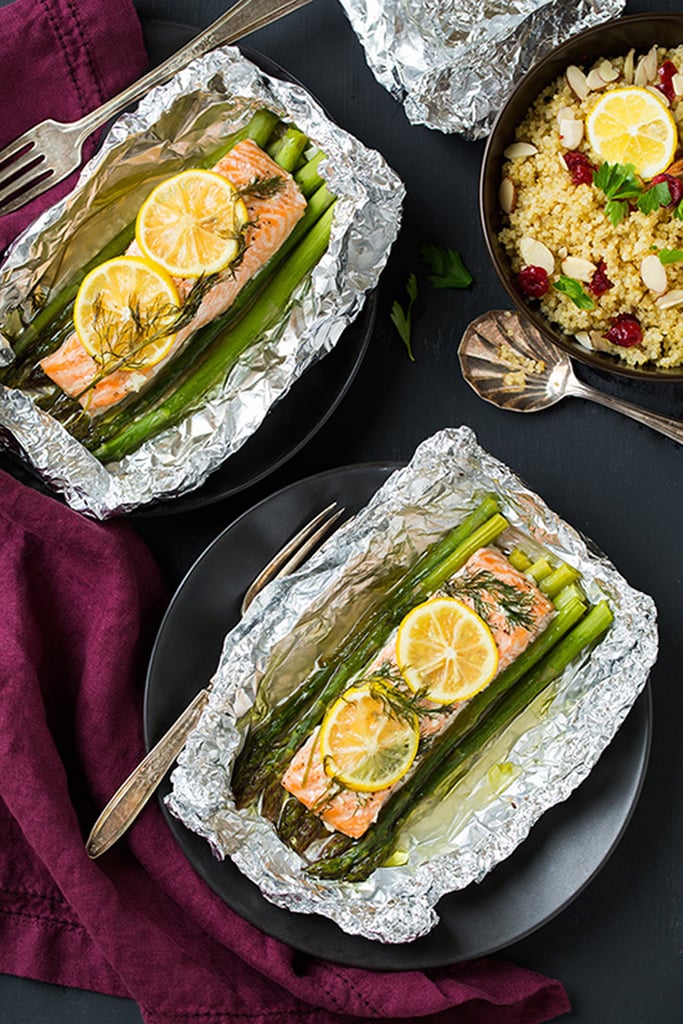 For a fast, fresh, and foolproof dinner, you can do no better than salmon and asparagus baked in foil [9]. Plus, the foil pouches mean easy cleanup.
Spring Wheat Berry Salad
Not only is this Spring wheat berry salad [10] a tasty, low-fuss dinner, but leftovers also make for a great brown-bag lunch.
Asparagus With Grated Egg and Vinaigrette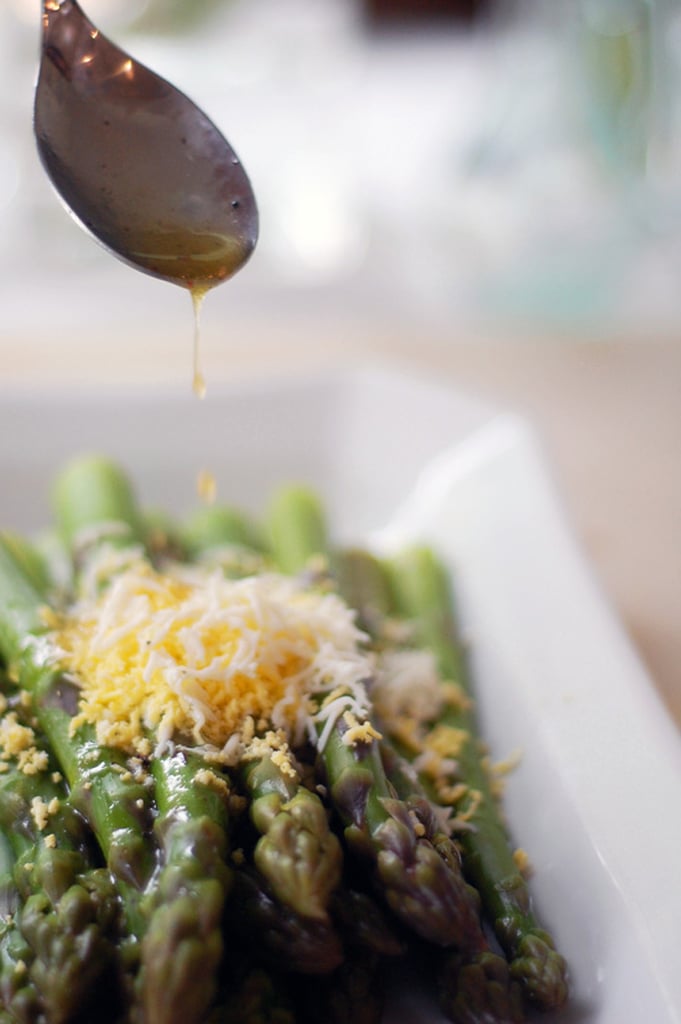 For a light and elegant side dish, go for asparagus with grated egg and vinaigrette [11].
One-Pan Balsamic Chicken and Veggies
Believe it or not, this flavorful dinner [12] can be ready in as little as 20 minutes and only dirties one pan.
Asparagus Caesar Salad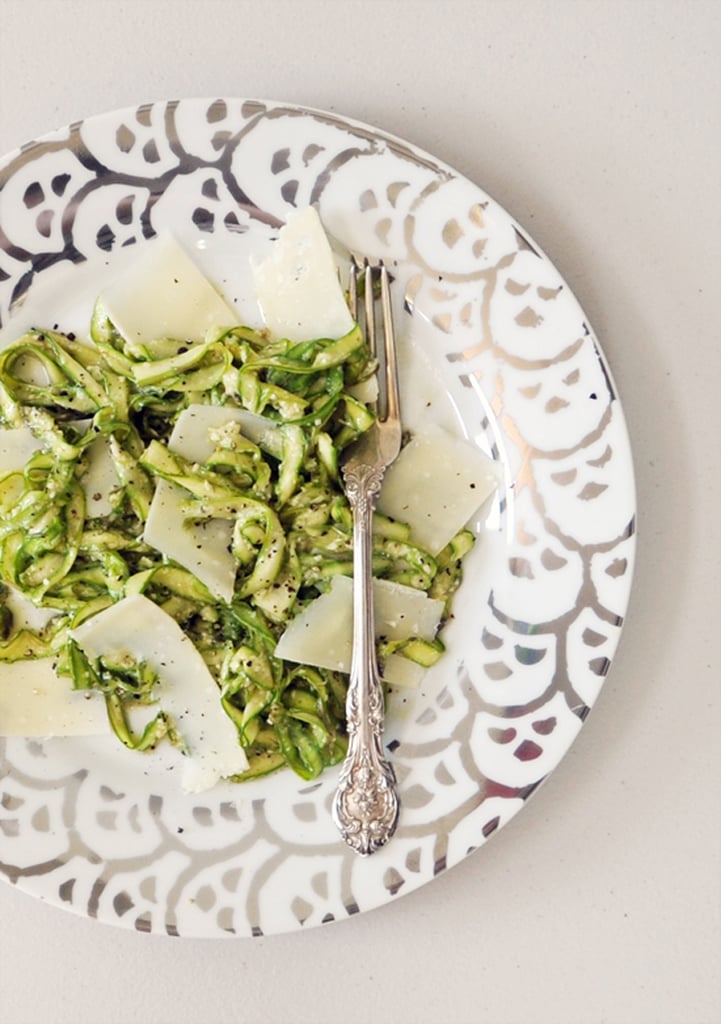 Toss ribboned asparagus with an assertive dressing [13], like classic caesar, for a side salad to remember.
Asparagus Tart With Balsamic Reduction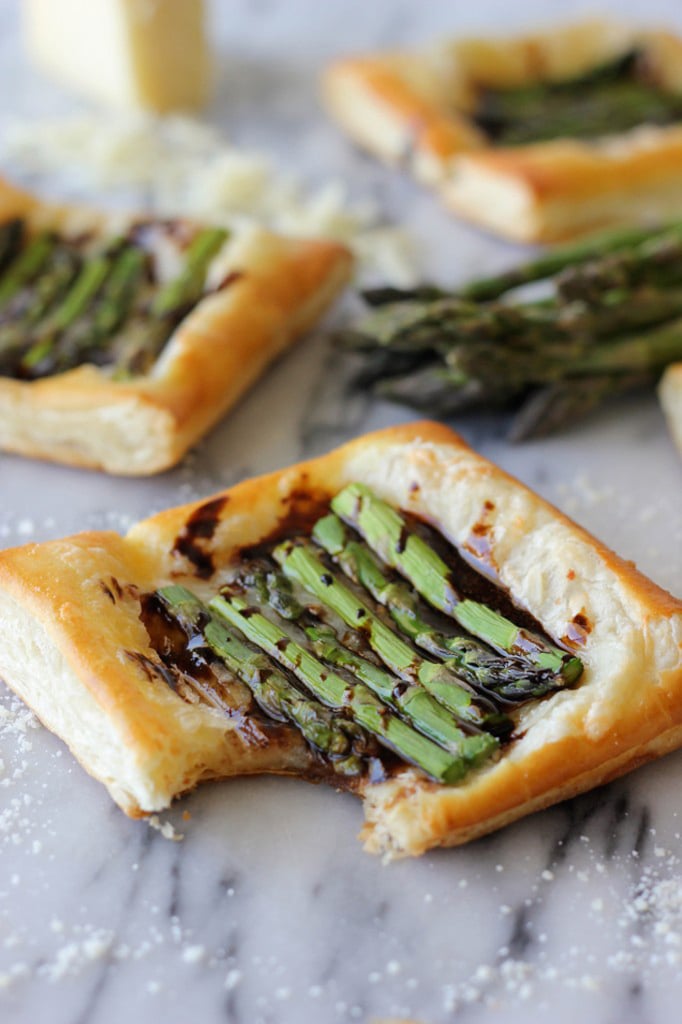 Puff pastry provides the flaky, buttery base for an easy yet elegant asparagus tart [14].
Casarecce With Grilled Asparagus, Sugar Snap Peas, and Ricotta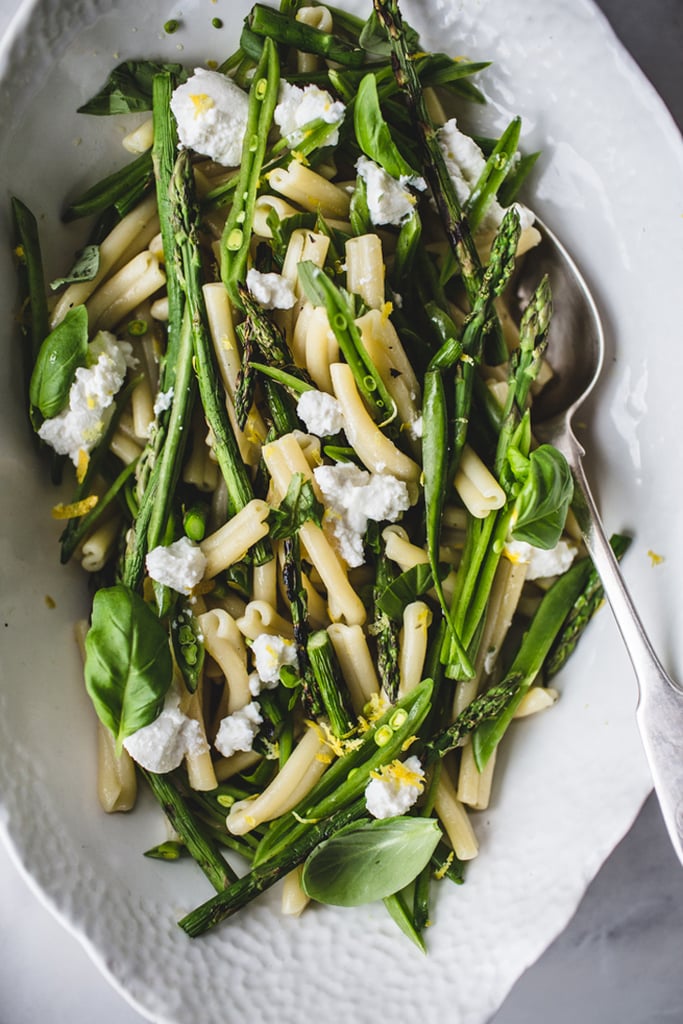 Salute crisp, green Spring produce by making a simple pasta recipe, like casarecce with grilled asparagus, sugar snap peas, lemon, and ricotta [15].
Ginger Chicken Stir-Fry With Asparagus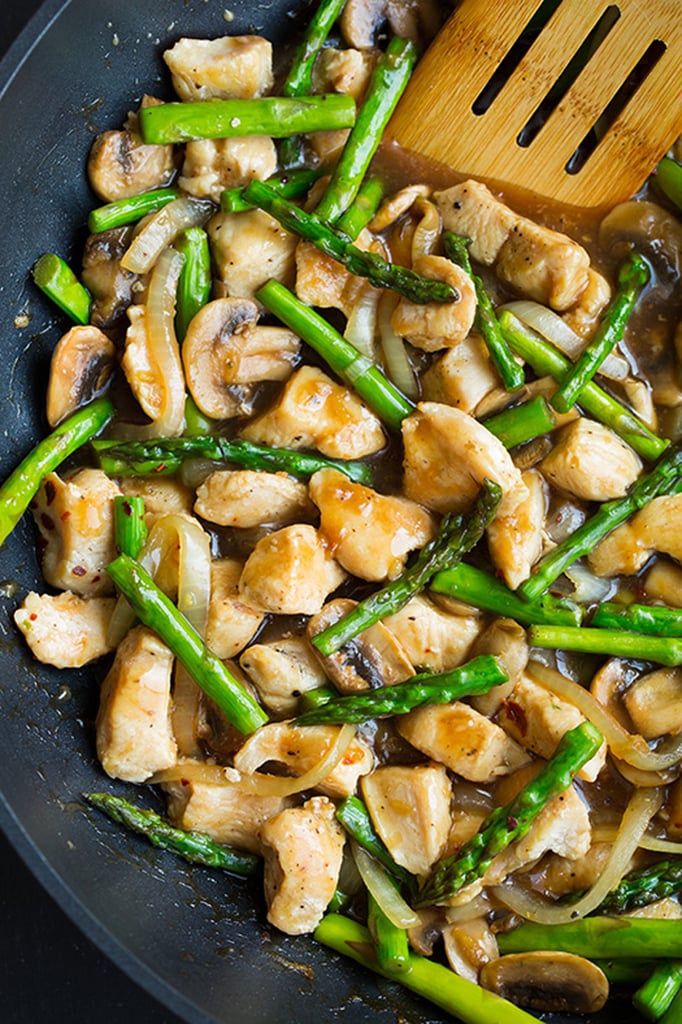 Instead of ordering Chinese takeout, make ginger chicken stir-fry with asparagus and mushrooms [16].
Asparagus, Goat Cheese, and Pea Shoot Pizza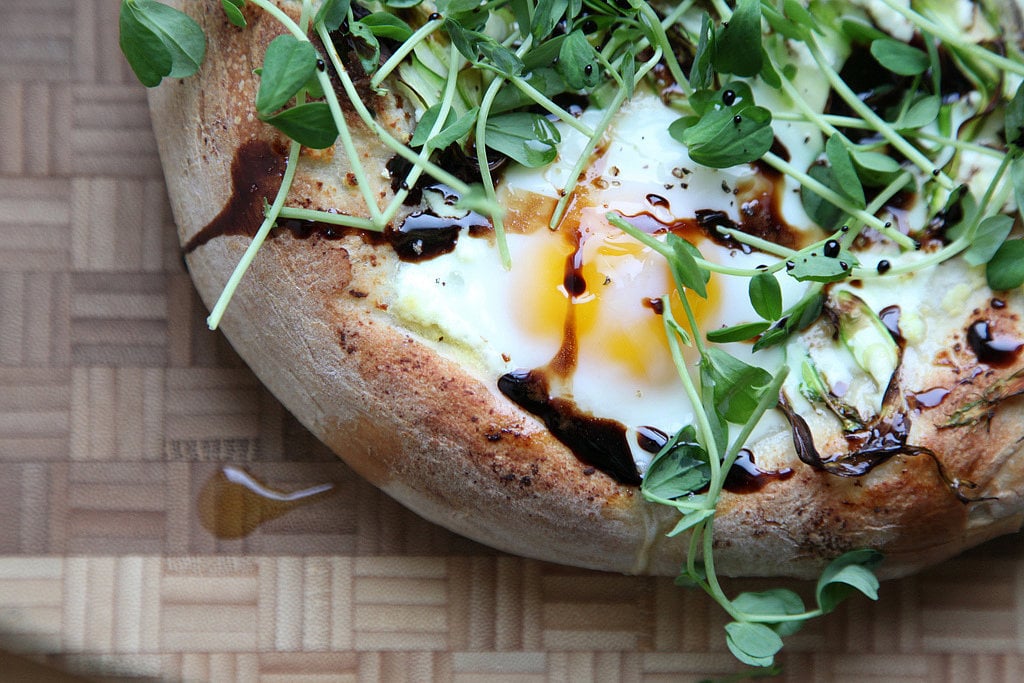 A few swipes of a vegetable peeler is all it takes to get the willowy asparagus ribbons that will grace the top of this tangy chèvre and pea shoot pizza [17].
Polenta Bites With Sherried Mushrooms, Asparagus, and Parmesan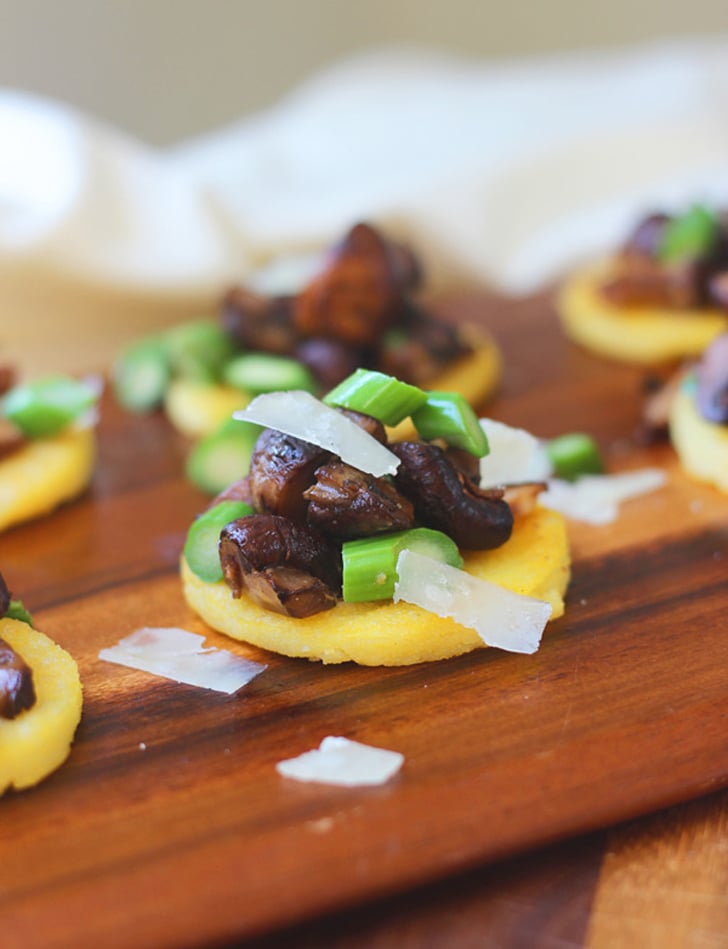 Dainty polenta bites with sherried mushrooms, asparagus, and parmesan [18] are an ideal party starter.
Lemon Chicken With Asparagus and Potatoes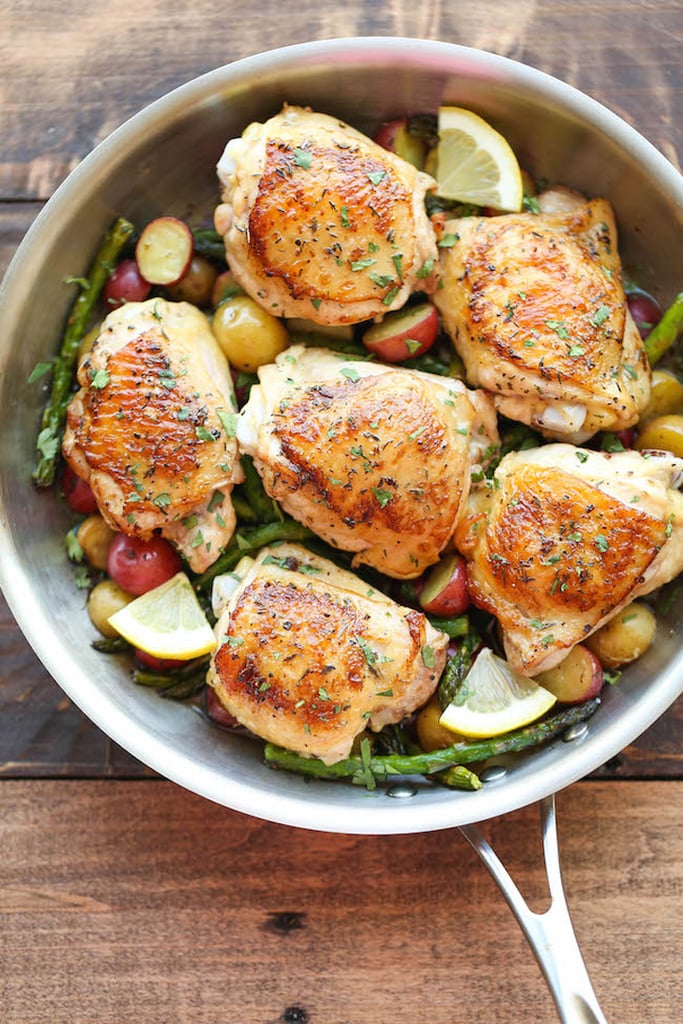 Made in one skillet, lemon chicken with asparagus and potatoes [19] is not only low-fuss but also extratasty by design, as the chicken juices baste the bed of vegetables as they roast.
Asparagus With Miso Butter and Poached Eggs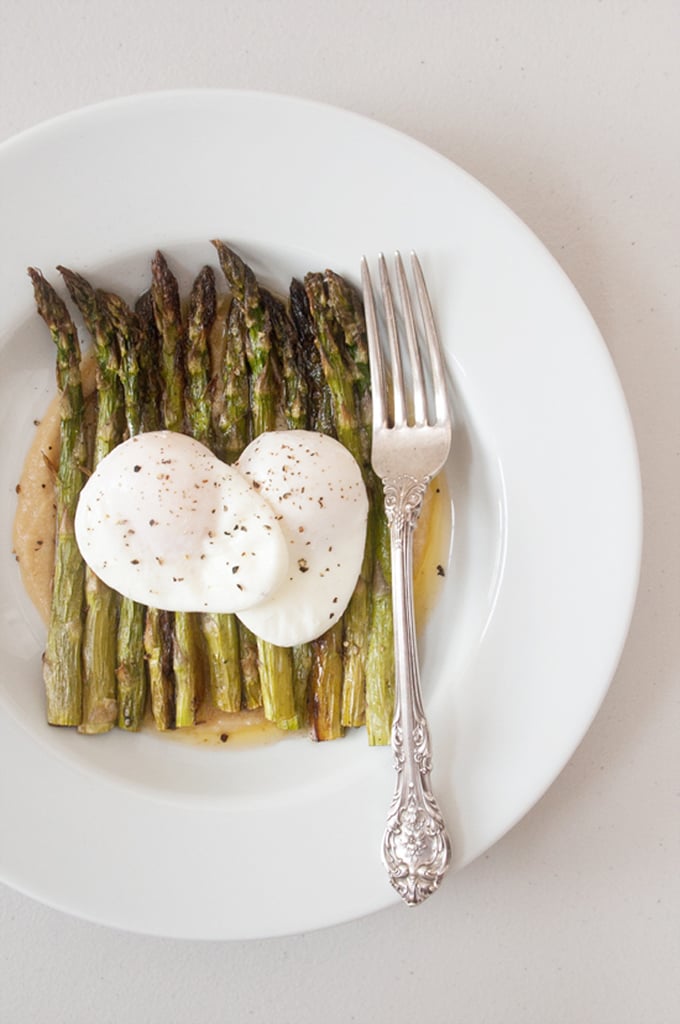 If the vegetable itself isn't enough to convince you to try this weeknight-friendly asparagus dish [20], just think of all the flavors it packs: there's the sherry vinegar, butter, poached eggs, and miso. Our mouths are already watering just thinking about it.
Pasta Carbonara With Asparagus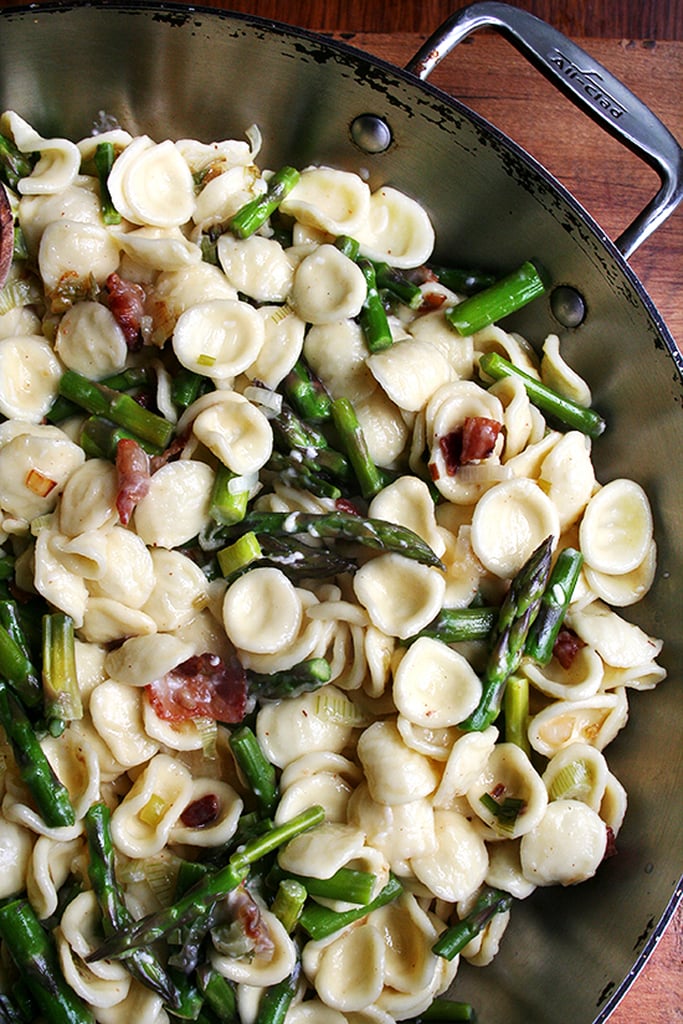 Add asparagus and leeks to pasta carbonara [21] for a well-rounded, seasonally appropriate meal.
Pan-Seared Salmon With Asparagus, Arugula, and Zucchini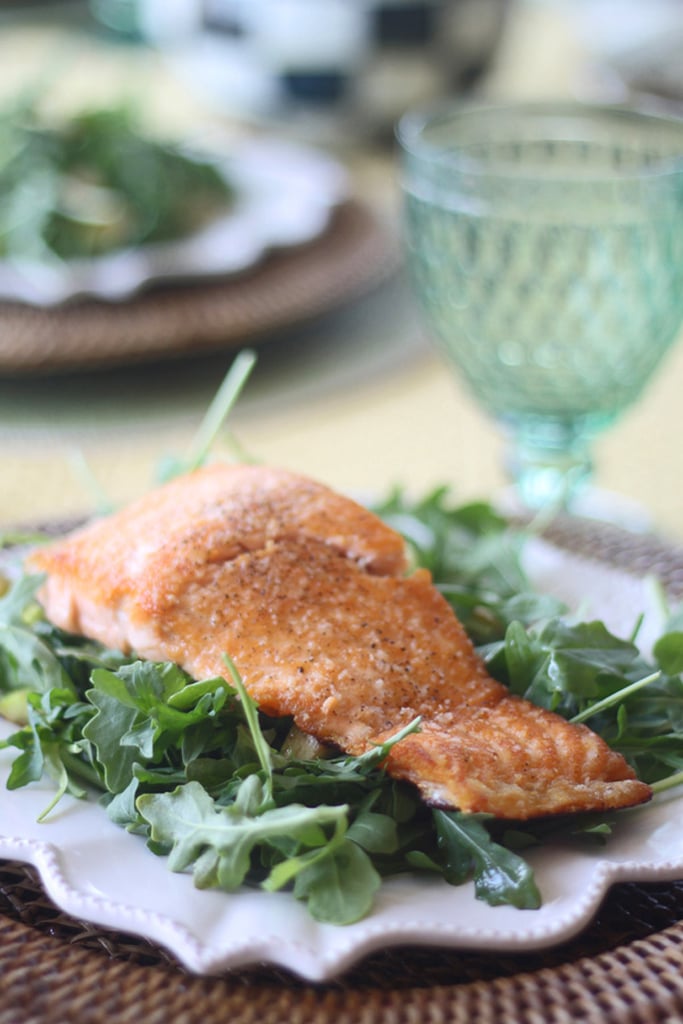 Serve pan-seared salmon atop a bed of arugula, asparagus, and zucchini [22] for a light lunch or dinner.
Spring Pasta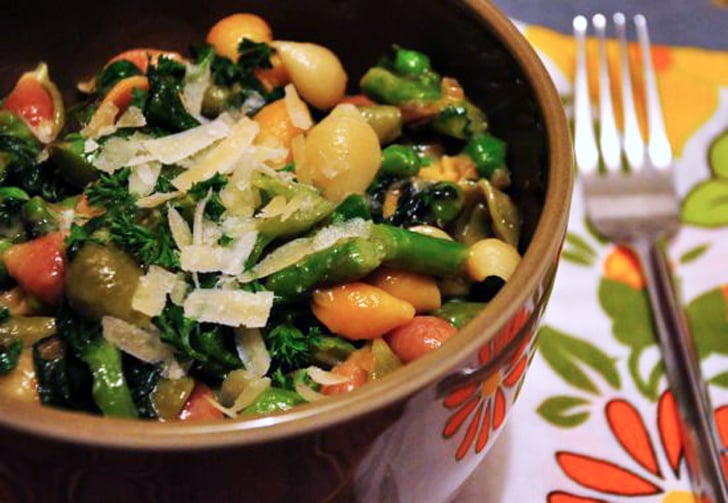 A beautiful bowl full of green goodness comes in the form of this dish: pasta with peas, asparagus, and butter lettuce [23].
Sesame-Ginger Soba Noodle Salad With Ribboned Asparagus
Make it for dinner, make it for a backyard BBQ, make it for a potluck. Just make this recipe for sesame-ginger soba noodles with ribboned asparagus [24].
Chicken and Asparagus Stir Fry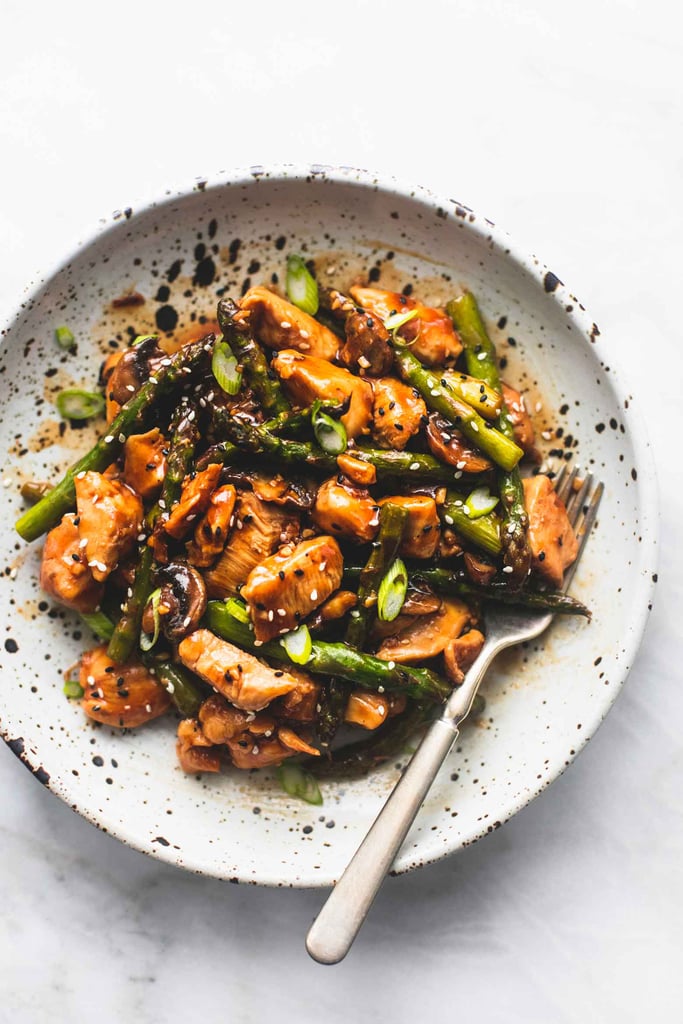 This low-cal easy chicken and asparagus stir fry [25] is filled with protein and veggies, complete with a yummy sauce!
Asparagus Salad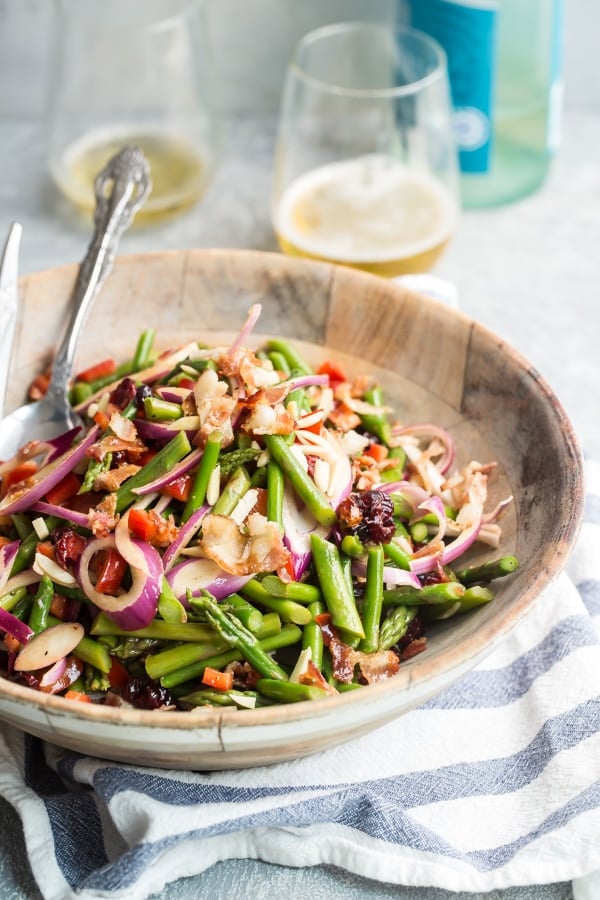 This hearty asparagus salad [26] is full of yummy ingredients like onions, peppers, and cranberries that will fill you right up.
Pin It!