Spring Dinner Party Menu and Recipes 2010-04-06 07:50:42
Come Party With Me: Spring Dinner — Menu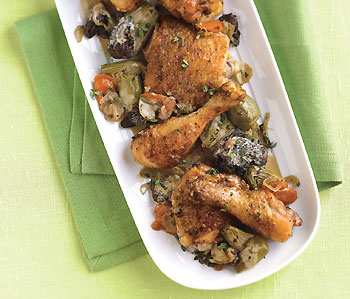 Everyone knows a friend or family member with a birthday in Spring, so why not celebrate your loved one with a meal that honors the season? Keep things light and casual by inviting guests over for an informal Friday night dinner party.
Serve an easy, crowd-pleasing menu that highlights the bounty of green produce at the farmers market. Start with asparagus and ricotta toast canapes.
Then sit down to a hearty braised chicken and artichoke fricassée with morel mushrooms. The creamy and flavorful fricassée can be paired with pasta, rice, potatoes, or polenta, so select a side dish that suits your hosting needs. For these delightful recipes, please
.
Ingredients
2 tablespoons extra-virgin olive oil, plus more for drizzling and brushing
8 slices packaged thin white bread
3/4 pound pencil-thin asparagus, cut into 2-inch lengths
Salt and freshly ground pepper
2 teaspoons fresh lemon juice
1/4 teaspoon finely grated lemon zest
1/2 cup fresh ricotta (5 ounces)
Directions
Preheat the oven to 350° and lightly brush a baking sheet with olive oil. Using a 2-inch round biscuit cutter, stamp 4 rounds out of each slice of bread and transfer to the baking sheet. Lightly brush the rounds with oil and toast for about 15 minutes, until lightly golden and slightly crisp.
Meanwhile, in a medium skillet, heat the 2 tablespoons of olive oil. Add the asparagus, season with salt and pepper and cook over high heat, stirring occasionally, until crisp-tender, about 1 minute. Add the lemon juice and let cool slightly.
In a small bowl, stir the lemon zest into the ricotta and season with salt and pepper. Spread the lemon ricotta on the toasts and top with the asparagus. Drizzle with oil and sprinkle with salt. Serve right away.
Serves 8.
Information
Category

Vegetables, Appetizers

Cuisine

North American
Chicken and Artichoke Fricassée With Morel Mushrooms
From Bon Appétit
Ingredients
1 1/2 lemons
12 baby artichokes
6 cups water
2 tablespoons all purpose flour plus additional for dredging
2 teaspoons salt
1 bay leaf
2 tablespoons butter
1 tablespoon olive oil
4 chicken thighs
4 chicken drumsticks
4 ounces fresh morel mushrooms
2 medium carrots, peeled, thinly sliced
2 large shallots, thinly sliced
2 tablespoons chopped fresh thyme, divided
1 garlic clove, minced
1/4 cup dry white wine
1/2 cup low-salt chicken broth
1/4 cup crème fraîche
Directions
Fill large bowl with water. Squeeze juice from 1 lemon into water; add lemon halves. Tear outer leaves from 1 artichoke until only pale green leaves remain. Cut top 3/4 inch from top; trim end of stem. Cut in half lengthwise. Rub cut sides of artichoke with lemon half; transfer to bowl with lemon water. Repeat with remaining artichokes.
Bring 6 cups water, 2 tablespoons flour, 2 teaspoons salt, and bay leaf to boil in large saucepan. Add artichoke halves and cook until just tender, about 5 minutes. Drain.
Melt butter with oil in heavy large deep skillet over medium heat. Sprinkle chicken with salt and pepper. Dredge chicken in flour, shaking off excess. Cook chicken until golden brown, about 4 minutes per side. Transfer chicken to plate. Add mushrooms, carrots, and shallots to skillet. Sprinkle with salt and pepper. Sauté until vegetables begin to soften, about 4 minutes. Add 1 tablespoon thyme and garlic; sauté 1 minute. Add wine; bring to boil. Add broth and artichokes; bring to boil.
Return chicken to skillet, reduce heat to medium low, cover, and simmer 20 minutes. Turn chicken, cover, and simmer until cooked through, about 15 minutes longer. Transfer chicken and vegetables to platter. Whisk crème fraîche into sauce in skillet; bring to boil. Season with salt and pepper. Pour sauce over chicken, sprinkle with remaining 1 tablespoon thyme, and serve.
Serves 4-6.
Information
Category

Poultry, Main Dishes

Cuisine

French