 Spring is starting to peek its little head out from the blanket of Winter. Spring vegetables — like asparagus — are starting to show up at markets, and tonight we spring the clocks forward. To get ready for all this springing about, I dug up a recipe for slow-sautéed asparagus with pancetta. The Spring veggie lightens up the meal, but the pancetta makes it rather comforting — a plus for those of you not ready to give up Winter. To check out the recipe for a simple but delicious dish,
.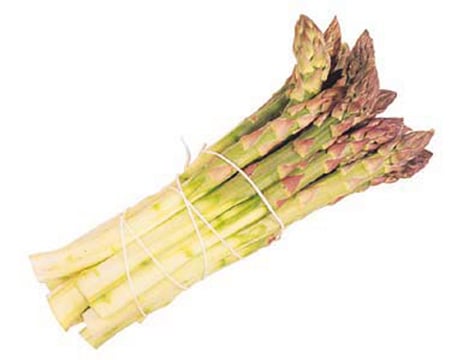 Slow-Sautéed Asparagus with Pancetta
From Leslie Revsin via Fine Cooking
Ingredients
1-1/2 oz. pancetta, sliced 1/8 inch thick, cut into 1/4 x 3/4-inch strips (to yield 1/4 cup)
1 Tbs. olive oil, preferably fruity and full flavored
2 small cloves garlic, very thinly sliced
2 to 3 tsp. unsalted butter
1-3/4 lb. medium to large asparagus (28 to 32 spears), fibrous ends snapped off, stems peeled, rinsed, and drained
Salt and freshly ground black pepper
Lemon wedges for serving
Directions
Set a plate lined with paper towels near the stovetop. Set a heavy 10-inch skillet over medium heat with the pancetta and olive oil. Cook the pancetta, stirring frequently, until light brown and slightly crisp (don't let it fully crisp and harden), about 10 min. Remove from the heat and transfer the pancetta with a slotted spoon to drain on the prepared plate (leave the fat in the pan).
Set the skillet back over medium heat and cook the garlic, stirring continually, 30 seconds or until just starting to turn light gold. Transfer the garlic with the slotted spoon to drain with the pancetta.
If less than 1 Tbs. fat remains in the pan, add enough olive oil to compensate. Melt the butter in the pan, add the asparagus, and season with salt and pepper. Sauté, stirring frequently, until the spears are light golden brown and tender (they won't brown evenly) with a slight edge of crispness, 20 to 30 min.
Transfer the spears to a serving platter, scatter the reserved pancetta and garlic over them, and serve with the lemon wedges.
Information
Category

Vegetables, Side Dishes

Cuisine

North American