Spring Strawberry Cocktail Recipe
Happy Hour: Eclipse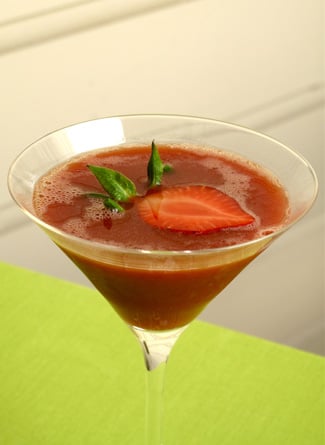 I've never been drawn to premade margarita, sweet and sour, and bloody mary mixes, mostly because I can make the aforementioned from scratch. Needless to say, I was hesitant when I heard about The Perfect Purée, a Napa Valley-based company that produces a wide range of exotic fruit purées designed for combining into beverages. That is, until I tried one in a cocktail.
If you can't locate, say, white peaches, yuzu, or blood oranges in your area, this product is truly the next best thing. Unlike most other cocktail blends out there, these purées are extracted from fresh fruit and flash-frozen to preserve freshness.
At a recent tasting, this cocktail — an eclectic recipe of tequila, apple brandy, and Campari with passionfruit, pomegranate, and blood orange purée — was so enjoyable that I asked the company for the recipe. Here it is.
Directions
Place all ingredients into a shaker with ice; shake vigorously for half a minute, then strain into a martini glass. Garnish with a strawberry slice. Serve immediately.
Makes 1 cocktail.
Information
Category

Drinks, Cocktails