Sprinkles Ice Cream
Sprinkles Cupcakes Founder on Inspiration For Her New Ice-Cream Joint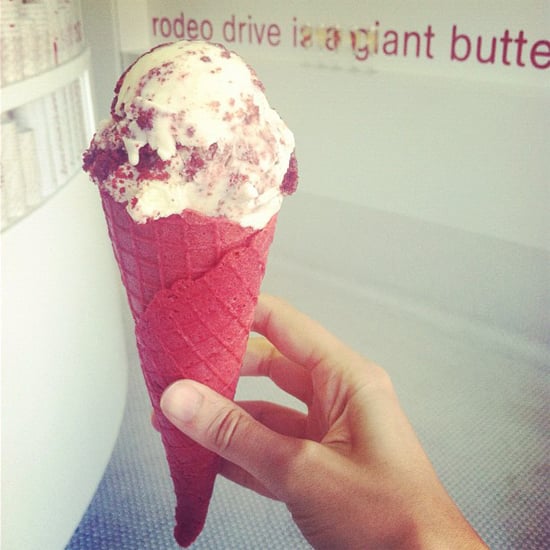 As of this Summer, Sprinkles Cupcakes lovers can now get a sugar high from a new dessert storefront. Sprinkles Ice Cream, located in Beverly Hills, is serving up scoops of classic American flavors with some cameos from the cupcake case (red velvet ice cream anyone?). CelebStyle editor Melody Nazarian recently sat down with founder Candace Nelson to discuss the inspiration behind its development, the most popular ice-cream flavors, and whether she prefers ice cream to cupcakes.
YumSugar: What was the inspiration for delving into ice cream?
Candace Nelson: I have a huge passion for classic American desserts. I was raised in Indonesia and when I had a hankering for American desserts, I couldn't just go to the store and get them. I had to make them. I grew up baking brownies, chocolate chip cookies, and cupcakes with my mom. That's how the cupcake thing came about, but it was time for a new creative challenge.
I felt like old fashioned American ice cream has kind of disappeared. It's been all about frozen yogurt and gelato, but if you want to go get a good scoop of American ice cream, where could you go? I live in LA, and there should be options, but there weren't. [Sprinkles Ice Cream] is going back to that passion for American desserts and modernizing them, making something [that's] old, new and fresh.
YS: What are some of the most exciting flavors and combinations that you offer?
CN: When we opened, about half of our die-hard cupcake fans walked out with our red velvet ice cream, because it's that marriage of creamy, rich ice cream with our red velvet cupcakes folded into it, frosting and all. You get big ol' chunks of red velvet with frosting. It's kind of like cupcake/ice cream nirvana.
Cap'n Crunch has been a hit that we didn't even see coming. We did it just for fun, but now we have it on the menu every day. Basically, we soak in our organic cream base with the cereal, and then we fold in caramelized pieces of the cereal itself. It makes you feel like a kid, but it's grown up.
YS: Do you have any plans of expanding Sprinkles Ice Cream?
CN: We do, actually. Our next location will be in Newport Beach. We plan to open in Q1 of next year. We're excited about that, because it will be near our cupcake shop down there.
YS: If you had to pick between cupcakes and ice cream, which would it be?
CN: You know what's funny is I've always said the perfect dessert is an ice cream sundae, because you have a range of textures and sensations all in one package. You have the creaminess and coolness of the ice cream, chewiness of the hot fudge and sauces, and crunchiness of the toppings.
YS: You're not going to pick, because you can't pick one of the two babies, right?
CN: Exactly. Well, it depends on which day of the week you ask me. I have the same sort of vague answer when people ask me my favorite cupcake too. I'm like, "Yeah, this," and then I end up listing eight flavors . . .
—Additional reporting by Anna Monette Roberts
Source: Instagram user celebstyle