Starbucks Blonde Coffee Taste Test
Taste Test: Starbucks Blonde Coffee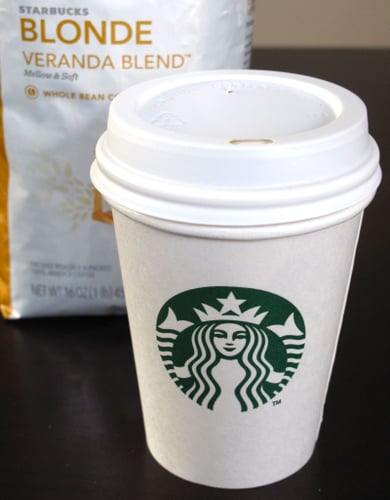 Last Fall brought word that Starbucks would be introducing Blonde, and today, the new "super-premium light roast coffee" hits stores and retailers nationwide.
Starbucks Blonde comes in two different blends: the Veranda (described as "mellow and soft") and the New Age-sounding Willow (characterized as "bright and clean"). As a regular Starbucks drinker, I was curious to know what the coffee titan's cuppa joe lite would taste like, so I subbed it for my usual morning cup of choice, the Pike Place Roast. How'd it fare? Read on to find out.

Although the Willow wasn't being brewed at my neighborhood store, I did score a tall version of the Veranda. Save for its sunny gold packaging, the Veranda looked identical to a Pike Place Roast, bearing the same dark brown color and opacity.
But once I took a sniff, this all changed. Unlike the Pike Place Roast, which is ripe with nutty, dessert spice-y aromas, the Blonde Veranda Blend was totally muted. The same thing happened when I went in for a sip — all of the concentration and richness of the Pike Place Roast simply wasn't there with the new coffee blend. I can't speak to the Willow blend, but from this experience, Starbucks Blonde was just as I'd predicted: coffee lite.
There wasn't anything offensive about Starbucks Blonde, but there wasn't much going for it, either — and, for the same price, it doesn't make much sense from an economical standpoint. After all, if it smells weaker and tastes weaker, why not just buy regular Starbucks coffee then brew it weaker? At least you'll save a few cents making it that way.
Have you tried Starbucks Blonde yet?