Starbucks Dark Cherry Mocha Arrives March 9, McDonald's Pilots Oatmeal
Up Next: Starbucks Dark Cherry Mocha, McDonald's Oatmeal?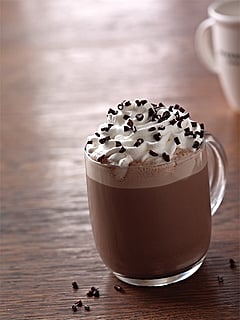 This year, coffee and breakfast have been the name of the game for fast food and casual chains. Last week, Burger King announced it'd soon be serving specialty coffee in a partnership with Starbucks-owned Seattle's Best — part of the company's goal to bring "new and improved" products to a.m. customers. But they're not the only ones raising the bar: Starbucks will also up the ante with a new specialty coffee, and McDonald's has been mulling over oatmeal.
With the Dark Cherry Mocha, which makes its US and Canada debut Mar. 9, Starbucks hopes to add cachet to its coffee drinks. The drink is already an international favorite and has a significant cult following abroad. It comes with espresso, bittersweet chocolate sauce, dark cherry flavoring, milk, whipped cream, and chocolate curls and can be made hot or iced.
Number one fast food chain McDonald's, in turn, has been following the lead of Starbucks and Jamba Juice by testing out oatmeal in test markets like Baltimore and Washington DC. Although it hasn't yet decided the future of the breakfast offering, McDonald's representatives maintain that the oatmeal has been "well-received."
One thing is for sure: the breakfast wars are on in full force. Which chain do you count on for breakfast on the go?