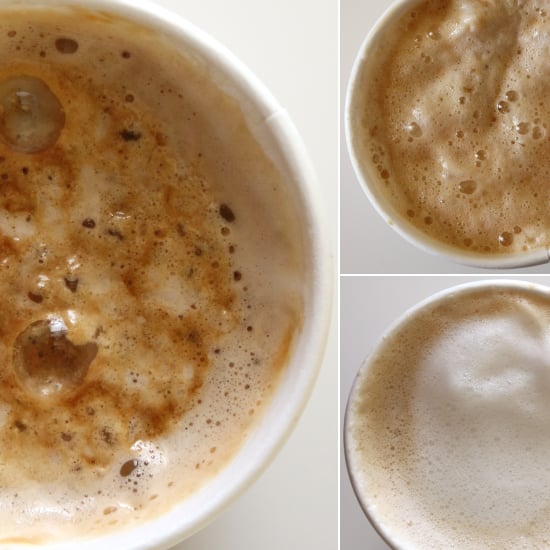 Today, Starbucks announced the release of a new drink, the Hazelnut Macchiato. It was quickly met with protests from some of the chain's customers, many of whom claimed the drink isn't really new, since both the Starbucks-style macchiato (vanilla syrup, steamed milk, and espresso) and hazelnut syrup have been on the menu for years, so technically, it's been possible to place an order for the drink all along. We decided this called for a side-by-side taste comparison between three drinks: the newly dubbed Hazelnut Macchiato, the coffeemaker's original Caramel Macchiato, and the similar and ever-popular Hazelnut Latte. See how the new beverage stacks up.
Upon first sip, the Hazelnut Macchiato (pictured on the left) didn't taste at all like hazelnut but rather warm milk and toasted coffee beans. Uncharacteristic of Starbucks's usually tooth-achingly sweet concoctions, this beverage had just enough sweetness to round out any of the espresso's bitterness. But while delicious and balanced, it lacked the hazelnut flavor to back up its name. The Caramel Macchiato (pictured at upper right) had the same creaminess as the hazelnut variety, only with more syrupy sweetness rather than any true caramel flavor. Between the two Starbucks-style macchiatos, the hazelnut won us over.
Finally, the Hazelnut Latte, as pictured on the bottom right-hand corner, emitted a strong hazelnut scent and flavor. Seasoned with a heavier dose of hazelnut syrup, the latte tasted much sweeter than the Hazelnut Macchiato. Despite having more hazelnut flavor, the latte resembled sweetened, flavored milk, whereas the Hazelnut Macchiato actually tasted like coffee.
Ultimately, we enjoyed the Hazelnut Macchiato because of its mellowness, not because of its distinguishable hazelnut flavor. The beverage is for the coffee drinker who takes his or her coffee with milk and sugar but expects the beverage to taste like coffee rather than a flavored syrup. Have you tried the new Starbucks Hazelnut Macchiato?