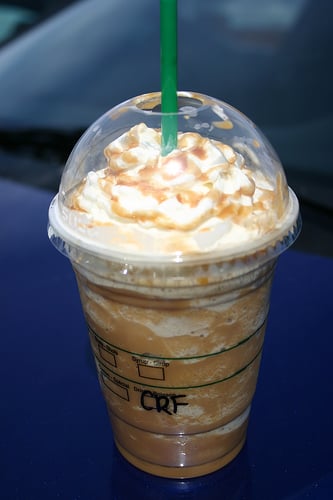 If you're looking for a dairy-free treat to enjoy on Earth Day, pop in to your nearest Starbucks. According to LA blogger Quarry Girl, select Starbucks stores are now serving a vegan Frappuccino.
According to Starbucks employees, the newly available Frap is the result of a reformulation of the drink, which is now blended with coffee, a proprietary syrup, ice, and milk, rather than a dairy base. Although caramel sauce and Java Chip are not vegan, baristas can now blend a dairy-free version with soy milk. The vegan option has just soft launched, so it's not officially on the menu; the chain will reportedly make the beverage official on May 4.
I ask for my coffee with soy at Starbucks, so it's nice to know the blended equivalent can be prepared in the same way.
Are you excited about a vegan Frappuccino?
Source: Flickr User mastermaq