Starbucks Launches Healthier Bistro Boxes
Starbucks Bistro Boxes Target Health-Conscious Diners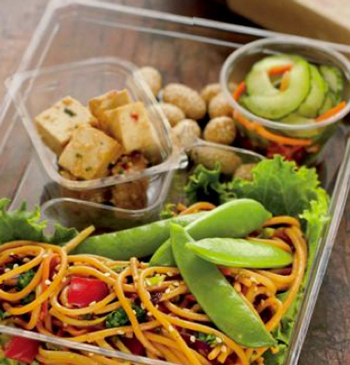 Starbucks doesn't just want its coffee drinkers to drop in for joe each morning; it also wants customers to stay for lunch.
Today, the coffee company rolled out a new line of Bistro Boxes — all-day meals and snacks under 500 calories with a focus on healthier, more wholesome food — to approximately 5,400 Starbucks locations across the United States and Canada. The target? The 45 percent of Americans who are "wellness seekers looking for healthy options," according to one executive.
The lineup includes $7-and-under entrée-sized Bistro Boxes, such as Chipotle Chicken Wraps, Sesame Noodles, Chicken Lettuce Wraps, and a Salumi & Cheese box. Also available are the smaller-sized Tuna Salad, Protein Plate, Chicken & Hummus platter, and Cheese & Fruit box.
Given the trend of healthier on-the-go menu options, this rollout seems to make sense for Starbucks. But considering the fact that these items don't come cheap and Americans aren't willing to pay more for healthier options, it remains to be seen whether these offerings will be successful. Will you try them?