Starbucks Pretzels Review
Starbucks's New Pretzels: How Do They Taste?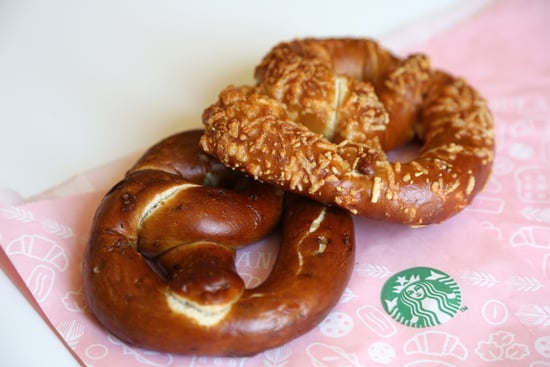 Last week, Starbucks announced it was launching two new Bavarian-style pretzels ($2) in its snack lineup, for people who tend to sway toward salty provisions over sweet options. Curious about the new additions to the bakery section, we took a trip to our nearest Starbucks. The pretzels, which come in asiago and cheddar and stoneground Dijon, looked a little dehydrated and sad as they were pulled out of Starbucks's pastry refrigerator. The Starbucks employee said the pretzels tasted better when toasted, so they took a short trip to the oven before we brought them back to the office to try. Keep reading for our thoughts and the review.
Asiago and Cheddar Bavarian-Style Pretzel
Overall opinions were lukewarm; warm and right out of the oven, tasters loved the "decent" pretzel's salty and "bona fide asiago" flavor. But within a few minutes of sitting out, scores dramatically went down (from four stars to two stars). Tasters couldn't get past the slightly stale texture (perhaps as a result of long storage in the refrigerator?). "Minus one point, because it doesn't have quite the same pull and chew as a German bretzl," one taster remarked. Another chirped, "It's dry and no Auntie Anne's." The pretzel seemed to grow more bland with every chew — something disappointing, especially given the small snack rings in at a whopping 360 calories.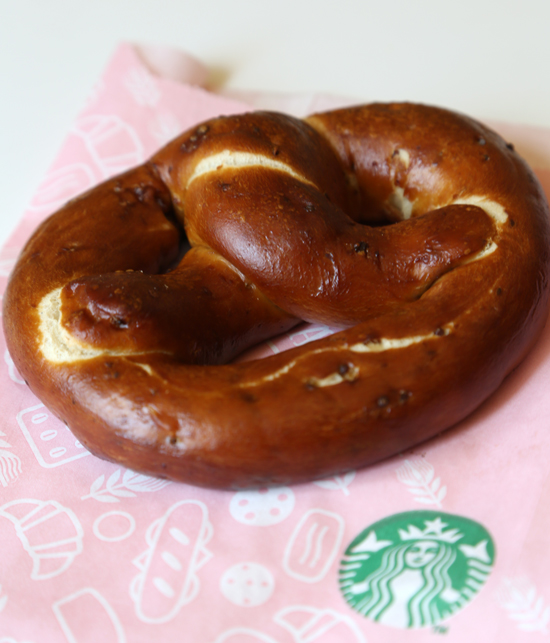 Stoneground Dijon Bavarian-Style Pretzel
When we tore open this pretzel, we were surprised to find a Dijon swirl inside. Some tasters agreed it was a novel concept and loved the idea, while others longed for a side of fresh mustard to dip the pretzel in instead. Flavor-wise, tasters enjoyed the grainy texture of the mustard, but it had a subtle flavor presence, leaving many hankering for more. Aside from the condiment bonus, the pretzel's texture was dry and boring; at 320 calories, most felt like the indulgence was "absolutely not worth it."