Starbucks Tests New "Refreshers," or Iced Green Coffee Drinks
Starbucks Tests New "Refreshers," or Iced Green Coffee Drinks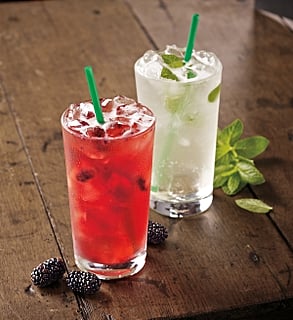 First it was custom-blended Frappuccinos. Then came naturally flavored coffee infusions, and an iced version of VIA instant coffee. What newfangled beverage will the coffee chain dream up next?
The answer is cold drinks made from green, or unroasted, coffee. The pilot test for "Refreshers," as they're called, began yesterday in 113 San Diego-area Starbucks locations. The drinks, which are available in cool lime and berry hibiscus flavors, are made of fruit and "flavor neutral" powdered extract derived from green coffee beans.
"It's coffee that doesn't taste like coffee," said Starbucks's Julie Felss Masino, who explained that the test has come in response to requests for more thirst-quenching drink options. The drink has less nutritional value (50 calories for a tall hibiscus drink), and caffeine (fewer than 15 milligrams) than many of the chain's other beverages.
Aside from a few online weight loss aids, there aren't a lot of green coffee drinks out there on the market — and it sounds like Starbucks is looking for ways to create a unique niche as the breakfast and coffee wars heat up. At prices ranging from $2.50 to $2.95, these drinks sound intriguing and affordable. Given the chance, would you try one?