Starbucks Via Peppermint Mocha Review
Taste-Off: Starbucks Peppermint Mocha Latte and Via Ready Brew
A few months back, we taste-tested the Starbucks Pumpkin Latte against the Via Ready Brew counterpart and were surprised to discover tasters preferred the Via instant coffee over the store-made latte. When Starbucks sent us its latest instant offering, Via Peppermint Mocha ($8 for six cups), we knew what we had to do: a taste-off! Between the Starbucks Peppermint Mocha, which combines espresso, milk, bittersweet chocolate, and peppermint flavor, and the Via package, find out which one our taste-testers preferred.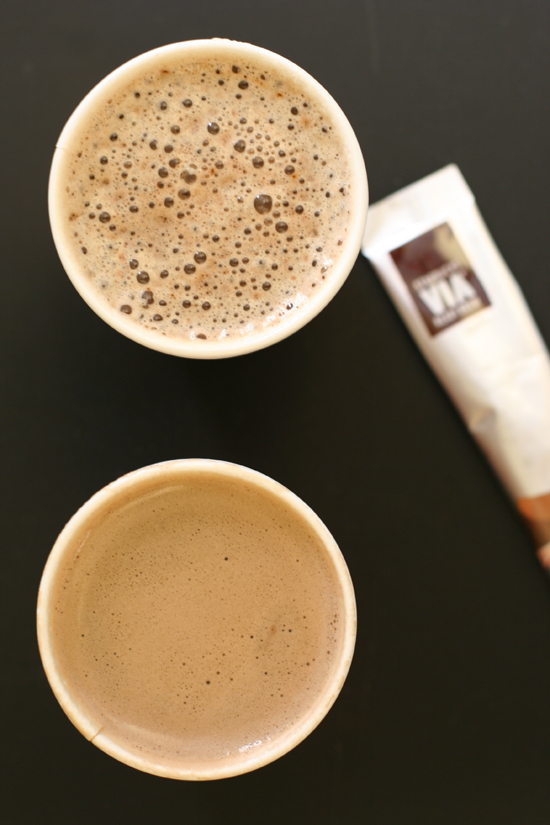 The promise: "Rich and creamy, crisp and minty," the Via Peppermint Mocha (pictured above) is "specially designed to be made with hot milk" and is "inspired by our Peppermint Mocha Latte" (pictured below).
What our tasters thought: Tasters found the latte thinner in texture and "peppermintier" than the Via. While it may have tasted a little more like coffee, the latte did not reign supreme in our taste test. Almost all preferred the Via, claiming it was thicker in texture and more chocolatey. It had subtle hints of mint and coffee, making it more like a complex hot chocolate than a flavored coffee beverage.
What YumSugar thought: The Yum team had a standstill with this one. Ultimately, if you're a hot chocolate fan, you will appreciate the Via. However, if you prefer peppermint, the crisp latte will fill you with holiday cheer.
Tasters' rating average: