Stars and Spinach Soup
Adapted from Ronzoni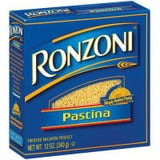 Ingredients
1/2 onion
2 garlic cloves, minced
2 tablespoons butter or margarine
1 tablespoon olive oil (optional)
1 can (46 oz.) chicken broth
1/2 cup white wine (optional)
1 cup Ronzoni acini di pepe or pastina, uncooked
1/8 teaspoon pepper
1/8 teaspoon red chili pepper flakes
Salt to taste
1 package (10 oz.) frozen chopped spinach
Directions
Cook and stir onion and garlic in hot butter and olive oil until tender but not browned.
Add wine and chicken broth and bring to a boil.
Add pasta, pepper, and pepper flakes; simmer about 5 minutes.
Add chopped spinach and simmer 5 minutes, stirring occasionally.
Season to taste with salt, if desired.
Serves 8.
Information
Category

Soups/Stews, Pasta/Noodle

Cuisine

North American