Steak With Miso Butter Sauce
Make New York Strip Steak Slicked With Miso Mustard Sauce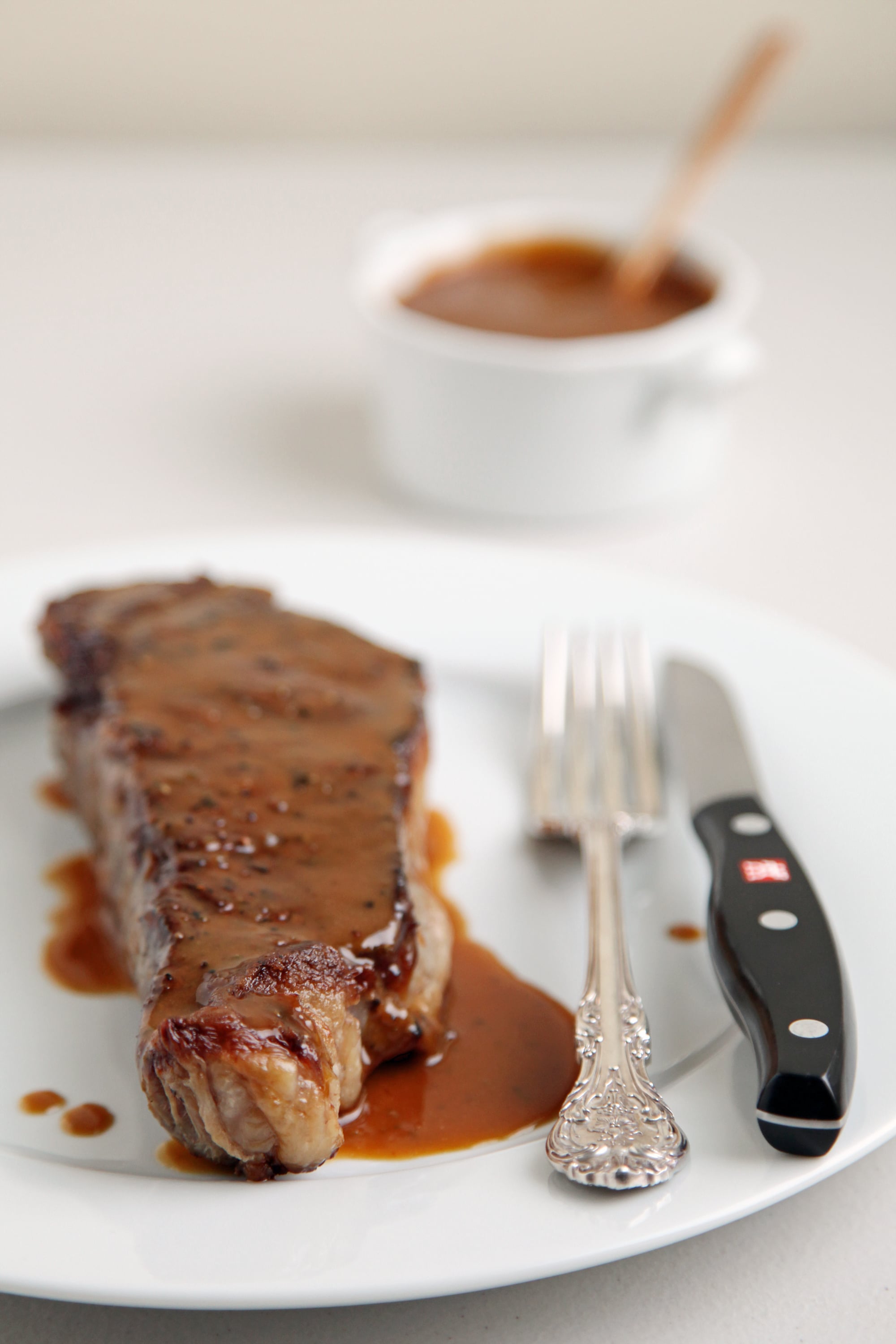 Perhaps it was an influential trip to farm camp as a youngster, or maybe it was out of sheer stubbornness, but I've only come around to eating red meat in the past few years.
It's easy to understand a deep-seated fear of cruciferous vegetables (I still can't stomach broccoli), gloppy (or velvety, depending on your perspective) mayonnaise, or pungent hard-boiled eggs, but steak-phobia is a tougher sell.
Even the most ardent carnivores will respect one's choice to eschew animal flesh, but I'm still perplexed by my avoidance of red meat (and red meat only). Thankfully I've since learned the err of my ways and have taken to juicy steaks, tender braised short ribs, and silky carpaccio with alarming intensity.
A fine, dry-aged steak shines when cooked simply, seasoned with naught but salt and pepper, but despite my taste for simplicity, on some days a scant slick of zingy sauce is the way to go. That's where this finger-licking-good miso sauce comes in (though feel free to omit the sauce and garnish with a petite pat of salted butter).
NY Strip Steak With Miso Mustard Sauce

Adapted from Saveur
Notes
I used NY strip steaks, but any thick steaks like a porterhouse or rib-eye would work well (most of these larger cuts can serve two with one steak).
Ingredients
2 two-inch-thick steaks
Kosher salt
2 tablespoons neutral oil, such as canola or grapeseed
Miso mustard steak sauce
Freshly cracked black pepper
Directions
Season the steaks heavily with salt, massaging it into the flesh on both sides and the edges. Let it sit at room temperature for 30 minutes to an hour.
Meanwhile, preheat the oven to 500°F. Heat a large cast-iron skillet over medium-high heat until it smokes. Add the oil and steaks, and cook for 5 minutes on one side, or until lightly charred.
Flip the steaks over, and put the skillet in the oven and cook until browned on the other side, the flesh is medium-rare, and an instant read thermometer reads 135°F — about 5-10 minutes depending on the size of the steaks.
Move the steaks to individual plates or a platter, and tent loosely with foil, allowing them to rest for 10 minutes.
Sprinkle the steaks with pepper, and serve with a light drizzle of miso mustard sauce.
Serves 2.
Information
Category

Main Dishes, Beef

Cuisine

North American