Steamed Artichokes
Simple Steamed Artichokes With Oil and Vinegar
When you've got really good ingredients, I believe it's best to prepare them in simple and straightforward ways. When it comes to artichokes, it's best not to mess around much. The flavor of fresh artichoke is unique and earthy, and that flavor is only enhanced by steaming it, then dipping the leaves in oil and vinegar.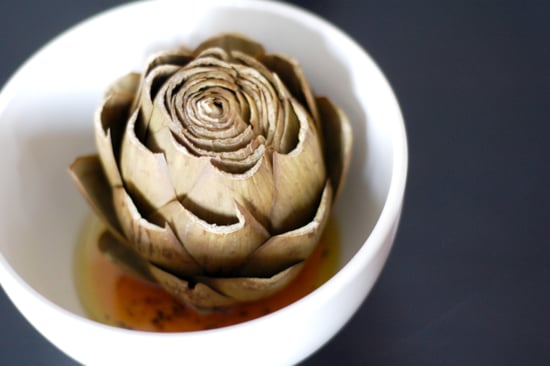 Once you've prepared your artichoke, which takes minutes, all you really need is a 30- to 40-minute steam, depending on the size of your artichoke.
Traditionally, people eat steamed artichokes with mayonnaise or butter, but I find that I prefer them with an acid, like red wine vinegar. It's a healthier alternative, and the flavors are more complex. Sit the artichoke in salt, pepper, olive oil, and vinegar, and attack the leaves until you reach the luscious heart. By this time it has soaked up all that delicious vinaigrette, and you're in for a real treat!
This dish makes a great substitute for a side salad, or enjoy it with a glass of red wine on a lazy Sunday afternoon and everything will just seem to fall into place.
Steamed Artichokes With Oil and Vinegar
From Camilla Salem, YumSugar
Ingredients
2 large artichokes, prepared for steaming
1/2 teaspoon salt
1/4 teaspoon black pepper
6 tablespoons extra-virgin olive oil
3 tablespoons red wine vinegar
Directions
In a large steamer basket, cook artichokes for 30 to 40 minutes, or until the bottom is very tender when pierced with a fork.
Split the salt, pepper, oil, and vinegar between two bowls, and set artichokes on top.
Dig in, eating your way through the leaves first, then remove the choke, and savor the heart for as long as you can!
Serves 2
Information
Category

Side Dishes

Cuisine

North American