Steamed Artichokes With Lemon-Pepper Butter
Steamy Artichokes With Lemon-Pepper Butter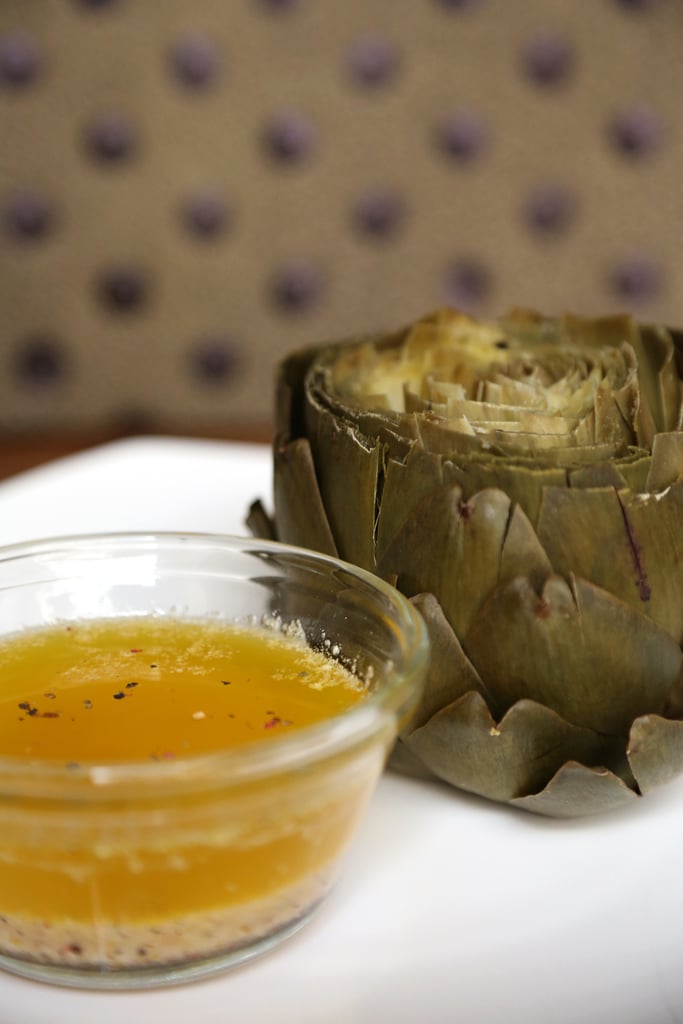 Growing up, steamed artichokes with lemon-pepper butter were a rare treat, and my sisters and I begged my mom to make it every time we'd see stacks of the thorny buds at the supermarket. Beyond the fun of scraping the flesh off each artichoke petal, you really can't go wrong with dousing anything in melted butter.
My mom's version of lemon-pepper butter is a little less involved than this recipe: she would set us up with the shaker of Lawry's Lemon Pepper Seasoning (available in the spice section) and a bowl of melted butter, and we would happily shake and spice the butter to our hearts' content.
Now that I'm older, I'll pass on the lemon pepper seasoning in favor of zesting and juicing a fresh lemon to add citric tang to the peppered butter, but I made sure to maintain the integrity of my food memories. When steamed sufficiently, artichokes become so sweet and creamy, it's almost like dipping butter in, well, more butter. Despite being revered as a special-occasion food, this recipe really couldn't be easier. Just remember: artichokes take about 45 minutes to steam, so plan accordingly.
If you have any leftover lemon-pepper butter, you must not have dipped each petal generously enough! Whatever you do, don't you dare toss it. Use the lemon-pepper butter when baking chicken or melt it over mashed potatoes. Keep reading for the simple artichoke recipe.
Steamed Artichokes With Lemon-Pepper Butter

From Anna Monette Roberts, POPSUGAR Food
Notes
If Meyer lemons are available, use them in place of regular lemons for a milder, more floral flavor.
Ingredients
2 large artichokes, prepared for steaming
1 stick salted butter
Zest of 1 lemon
Juice of 1/2 lemon
1/2 teaspoon black pepper, or more to taste
Directions
Place a stainless steel vegetable steamer inside a large stockpot and fill the pot with one to two inches of water. Place prepared artichokes inside steamer, cover pot with a lid, and steam over medium-high heat for 30 to 40 minutes or until the bottoms of the artichokes are very tender when pierced with a fork.
Meanwhile, in a small saucepan, melt the butter. Whisk in the lemon zest, lemon juice, and black pepper. Transfer to a small bowl and set aside.
Place the artichokes on a large serving platter with the lemon-pepper butter for dipping the leaves. Work your way through the outer leaves first, then remove and discard the choke, and savor the heart.
Serves 2 to 4.
Information
Category

Vegetables, Appetizers

Cuisine

North American