Steamed Kale Recipe
Enjoy Naked, Steamy Kale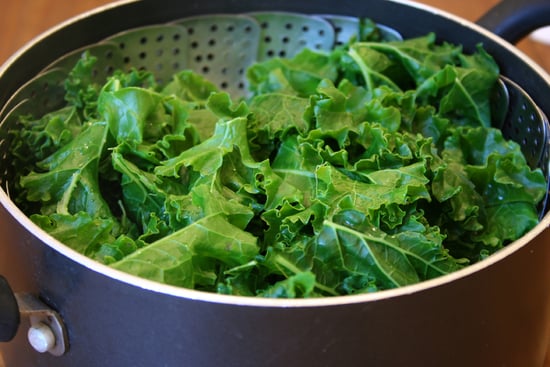 Throughout the years, I've seen several different ways of achieving perfectly wilted kale. Growing up, my mom would pan-fry the dark, leafy green, smothering it with soy sauce and diced red bell pepper to offset its bitter flavor. When I was in culinary school, I was taught to blanch and shock the kale, then sauté it à la minute. However, I think I've discovered the most simple method of kale preparation — steaming — and it requires less than five minutes and only one pot. Put away the sauces and oils and bust out the old-school stainless steel vegetable steamer, because you're going to love steamed kale, unadulterated.
Fill a large soup pot with about an inch of water. Place the vegetable steamer on the bottom of the soup pot, spreading the metal leaves wide. Rip the kale leaves into bite-sized pieces, placing them in the steamer. Cover, and steam kale over high heat for about four minutes, or until the leaves have turned bright green and appear wilted. Taste one of the top leaves to ensure that the kale is steamed thoroughly. Keep the cover off of the kale as you serve to prevent the kale from over-steaming. Otherwise, you'll end up with sludgy, sulfuric-tasting kale that is not the vibrant, steamy kale you've hoped for.
Steaming kale naturally draws out its saltiness, so there's no need to season the leaves. It also takes out that unsavory bitterness that is so often associated with the vegetable. What's your choice way to eat kale?