Step by Step Instructions on How to Make Shrimp Jambalaya
An Evening with Bittman's Jambalaya A few weeks ago, I met my friend April for a birthday dinner at Farmer Brown in San Francisco. They're known for down-home style soul food and a festive atmosphere — seriously, it's like going to a party at someone's house. Neither April nor I ordered the jambalaya, but another friend did, and we both ended up having food envy. We thought about planning another trip out but figured it would be more fun to make it ourselves. So I pulled out my trusty copy of Mark Bittman's How to Cook Everything, rounded up my ingredients, and made a delicious feast. To see how you can do it at home — it's really simple, but does take a bit of time and planning —
.
Note: My friend has a self-proclaimed "wimp" tolerance for spice. To spice yours up, add some jalapenos, habaneros, or other type of pepper.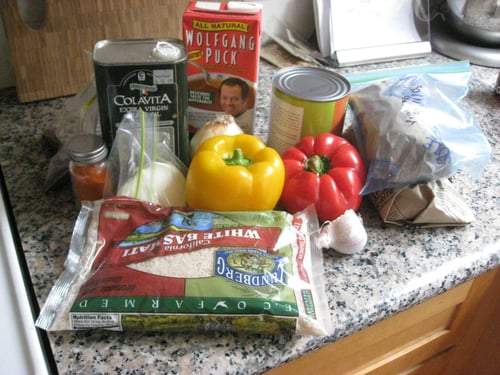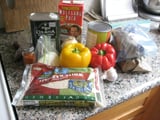 Ingredients
3 Tablespoons extra-virgin olive oil
2 cups sliced onions
2 cups diced bell peppers, preferably red or yellow [I used one red and one yellow]
salt and freshly ground black pepper to taste
4 cups chicken, beef, vegetable, or shrimp stock or water
2 Tablespoons minced garlic
1/2 teaspoon cayenne pepper, or to taste
2 teaspoons fresh thyme leaves, or 1 teaspoon dried thyme
2 cups peeled, seeded, and chopped tomatoes (canned are fine; drain first)
2 cups long-grain rice
2 pounds shrimp, peeled (and deveined, if you like), and cut into pieces if very large
minced fresh parsley or cilantro for garnish
Directions
Place the olive oil in a medium-to-large casserole or dutch oven [I used a large, deep sauté pan] and turn the heat to medium high.
Add the onions and bell pepper, sprinkle with salt and pepper, and cook, stirring occasionally, until the onion softens and just begins to brown, about 10 minutes. Meanwhile, warm the stock in a small saucepan over medium heat.
Stir in the garlic, cayenne, and thyme, and stir for about 30 seconds.
Add the tomatoes, and turn the heat to medium-high. Cook, stirring for 5 minutes, or until the tomatoes begin to break up.
Stir in the rice, then the stock. Bring to a boil, turn the heat to medium, and cook, uncovered, stirring occasionally, until the rice is tender and the liquid just about absorbed, 20 to 30 minutes. [I ended up adding some of the drained off tomato liquid, as the rice wasn't quite cooked fully and the liquid was nearly gone.]
Add the shrimp and stir. Cook 2 or 3 minutes, then raise the heat if necessary to cook off the remaining liquid.
Garnish and serve.
Information
Category

Rice, Main Dishes

Cuisine

Cajun/Creole