Stinging Nettles
In Season: Stinging Nettles
Stinging nettle: the name might lead you to believe that this plant is (1) dangerous to touch and (2) a weed. And you would be right. But despite its name and repellent nature, stinging nettles are also edible and delicious and becoming increasingly popular among foraging chefs, thanks to its abundance in the wild. Now in season, nettles could be the perfect addition to your Spring kitchen endeavors. Want to learn more about this prickly plant? Just read on.
The stinging nettle is abundant in North America, Europe, and Asia but can also be found in parts of Africa with moist soil.
The plant gets its name from the tiny, prickly hairs on the leaves and stems that detach from the plant when it's touched and inject a painful chemical concoction.
Stinging nettles have a long medicinal history with uses ranging from arthritis to rheumatism relief to dandruff prevention.
With a flavor likened by some to spinach or broccoli, nettle has become a popular Spring vegetable. Fresh and dried leaves can be steeped in tea that supposedly fights off seasonal allergy symptoms.
Look for stinging nettle at your local farmers market. Many home chefs forage for the weed, but it's important to pick the leaves before the plant begins to flower. Eating mature stinging nettle can cause urinary tract irritation and damage.
The plant is rich in vitamins A, C, iron, potassium, manganese, and calcium and high in protein for a leafy green vegetable.
The stinging hairs on the plant can be removed by soaking the leaves in water, drying, or cooking.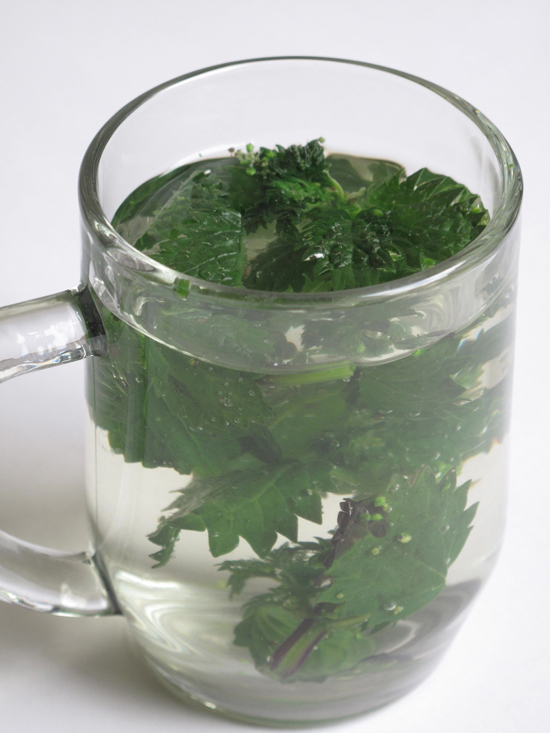 If you manage to track down a bag of stinging nettles, get ready for a treat! Here are a few of the many uses for this culinary weed:
Process blanched leaves with pine nuts, garlic, parmesan cheese, and olive oil for delicious stinging nettle pesto.
Top a Neapolitan-style pizza with pancetta and stinging nettles. Crack an egg in the center a few minutes before it's done.
Replace spinach or asparagus with stinging nettle in a Spring frittata or quiche.
Puree into a savory stinging nettle soup.
Photos: Susannah Chen