Stir-Fried Spicy Chicken Tender Recipe
Fast & Easy Dinner: Stir-Fried Spicy Chicken Tenders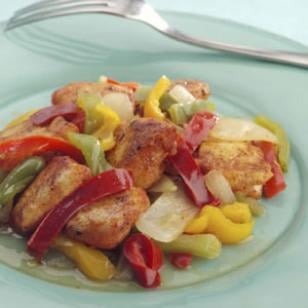 Stir-fries should definitely be a part of your regular weeknight-cooking repertoire. They come together incredibly quickly and can be made with an endless assortment of ingredients. This basic variation combines chunks of skinless boneless chicken tenders with bell peppers and onions. For a complete meal, serve on a bed of brown rice with a side of sautéed bok choy. The recipe calls for frozen vegetables, but it doesn't take that much time to chop fresh peppers and onions. To get the healthy technique that can be used over and over again, keep reading.
Ingredients
1 teaspoon sugar
1 teaspoon paprika
1/2 teaspoon salt
1/2 teaspoon freshly ground pepper
1/4 teaspoon cayenne pepper
1 pound boneless, skinless chicken breast tenders, cut into 2-inch pieces
1 tablespoon canola oil
1 16-ounce package frozen bell pepper and onion mix
Directions
Combine sugar, paprika, salt, pepper and cayenne in a medium bowl. Add chicken and toss to coat. Cover and refrigerate for 15 minutes or overnight.
Heat oil in a large nonstick skillet over high heat. Add pepper-and-onion mix and cook, stirring occasionally, until the vegetables are soft, 5 to 7 minutes
Add the spice-rubbed chicken and cook, stirring, until no longer pink in the center, 3 to 5 minutes. Serve hot.
Serves 4.
Information
Category

Poultry, Main Dishes

Cuisine

Other Asian