Strawberries and Prosecco Cocktail Recipe
Berry Tempting: Strawberry and Prosecco Muddle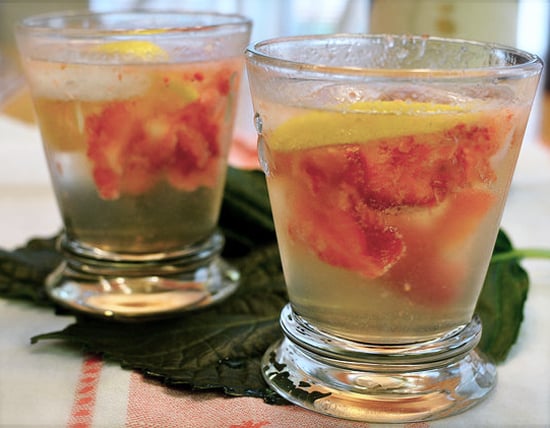 Most of you love muddled cocktails and I'm a huge fan, too — especially if irresistible strawberries are involved. This weekend I pulled out the muddler and made a delicious cocktail with strawberries, homemade simple syrup, Prosecco, and lemon. If you don't have a muddler, you can easily use the handle of a wooden spoon. I made a big batch of simple syrup, so I can whip up cocktails quickly all month long. This refreshing mixed drink is perfect for sipping throughout the sizzling late Spring and early Summer. Want to make one for yourself? Keep reading for the recipe.
Muddled Strawberry and Prosecco Cocktail
From Bon Appétit
Ingredients
1/2 cup sugar
1/2 cup water
1 1/2 cups chopped hulled strawberries
6 thin lemon slices
Ice cubes
1 750-ml bottle chilled Prosecco
Directions
Stir sugar and 1/2 cup water in heavy small saucepan over medium-low heat until sugar dissolves. Increase heat and bring to boil. Cool syrup.
Divide strawberries among six 6- to 8-ounce glasses; add 1 tablespoon syrup to each and mash with muddler or handle of wooden spoon. Add lemon slice to each and mash to release flavor. Add several ice cubes to each glass, then fill with Prosecco.
Makes 6 drinks.
Information
Category

Drinks, Cocktails