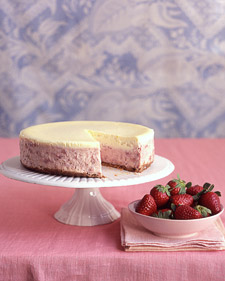 Nothing says Spring more than strawberries, and since the markets are getting flooded with a surplus of ripe, red berries, it's a no brainer to serve a strawberry dessert as the finish to a seasonal dinner. Instead of topping a regular cheesecake with berries, this lovely recipe combines roasted berries with mascarpone and cream cheese. This mixture is poured into a classic graham cracker crust before being topped with a layer of rich vanilla cheesecake. It's important to make the dessert in advance, so get started the day before your party. Want the recipe? Please
.


Ingredients
1 1/2 pounds strawberries, hulled
3 tablespoons light corn syrup
1 1/2 cups finely ground graham crackers, (about 4 sheets)
1 cup plus 3 tablespoons sugar
3 tablespoons unsalted butter, melted
1 pound plus 13 ounces cream cheese, room temperature
1/4 teaspoon salt
2 large eggs, room temperature
1 vanilla bean, seeds scraped and reserved
8 3/4 ounces mascarpone cheese, room temperature
Directions
Preheat oven to 300 degrees.
Place strawberries in a single layer on a rimmed baking sheet. Drizzle with corn syrup, and toss gently to coat.
Bake until syrup thickens and strawberries turn deep red and shrink slightly, about 1 hour 30 minutes.
Transfer strawberries and syrup to a medium bowl, and mash with a potato masher. Let cool completely.
Raise oven temperature to 350 degrees.
Stir together graham cracker crumbs, 3 tablespoons sugar, and the melted butter in a small bowl. Press mixture into the bottom of a 9-inch springform pan to make an even layer. Bake until crust is firm to the touch and has just darkened, about 10 minutes.
Transfer pan to a wire rack, and let crust cool completely.
Reduce oven temperature to 325 degrees.
Put cream cheese into the bowl of an electric mixer fitted with the paddle attachment; mix on medium-low speed until creamy, about 2 minutes.
Scrape down sides of bowl, then gradually add remaining cup sugar and the salt.
Scrape down sides of bowl; add eggs, 1 at a time, mixing well after each addition.
Scrape down sides of bowl, and mix in vanilla bean seeds and mascarpone until very creamy and no lumps remain, about 3 minutes. (Reserve vanilla bean for another use.)
Transfer 5 cups cream cheese mixture to bowl with mashed strawberries; stir to combine.
Pour strawberry-cream cheese mixture on top of crust; smooth with an offset spatula. Carefully spoon dollops of plain cream cheese mixture on top, smoothing with an offset spatula.
Wrap the exterior of the springform pan in 2 layers of foil; set in a large roasting pan. Fill roasting pan with boiling water until water reaches halfway up the sides of the springform pan.
Bake cheesecake until set, about 1 hour to 1 hour 10 minutes.
Remove springform pan from water bath, and transfer to a wire rack to cool.
Refrigerate until cold, at least 4 hours (up to overnight).
Serves 8-10.
Information
Category

Desserts, Cheesecake

Cuisine

North American