Strawberry and Raspberry Frozen Yogurt Popsicle Here at Sugar HQ, everyone is crazy for the new, dangerously close frozen yogurt joint, SoGreen. After consuming a couple of SoGreen's delicious, fruity treats, I decided to experiment with my own variation. Currently I'm obsessed with Popsicles, so naturally, I was inspired to make a frozen yogurt Popsicle.
The recipe is simple with only a couple ingredients: strained yogurt, fresh fruit, and sugar. I had strawberries and golden raspberries on hand, but any fruit combination would work.
Once frozen, the bite-sized strawberry chunks were more crunchy than I would have preferred. To avoid the crunchy and hard-to-eat fruit, be sure to thinly slice all berries. Much like any other homemade Popsicle, the hardest part is waiting for them to freeze.
To learn more about making this perfect Summer treat,
.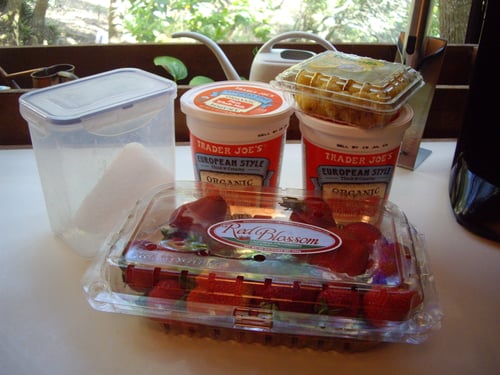 Strawberry & Raspberry Frozen Yogurt Popsicles
Original Recipe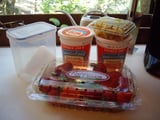 Ingredients
4 cups whole milk yogurt
2 cups chopped strawberries
1/4 cup chopped raspberries
4 tbsp sugar
Directions
Strain liquid from the yogurt. To strain, place cheesecloth or paper towels in a colander. Pour yogurt into the colander and place it in a large bowl. Place in refrigerator for 2 hours.

Chop strawberries. I chopped them into chunks but in the future, I will quarter the berries and finely slice them into paper thin slivers.

Place strawberries in a bowl and add sugar.

Chop or puree raspberries and add to strawberries, stir to combine.

Stir the strained yogurt into strawberry raspberry mixture.

Fill popsicle molds.

Wait patiently to freeze.
Makes 8 popsicles.
Information
Category

Desserts, Frozen

Cuisine

Other