Strawberry Rhubarb Crumble With Cardamom Whipped Cream
Get Sweet on Strawberry Rhubarb Crumble With Cardamom Cream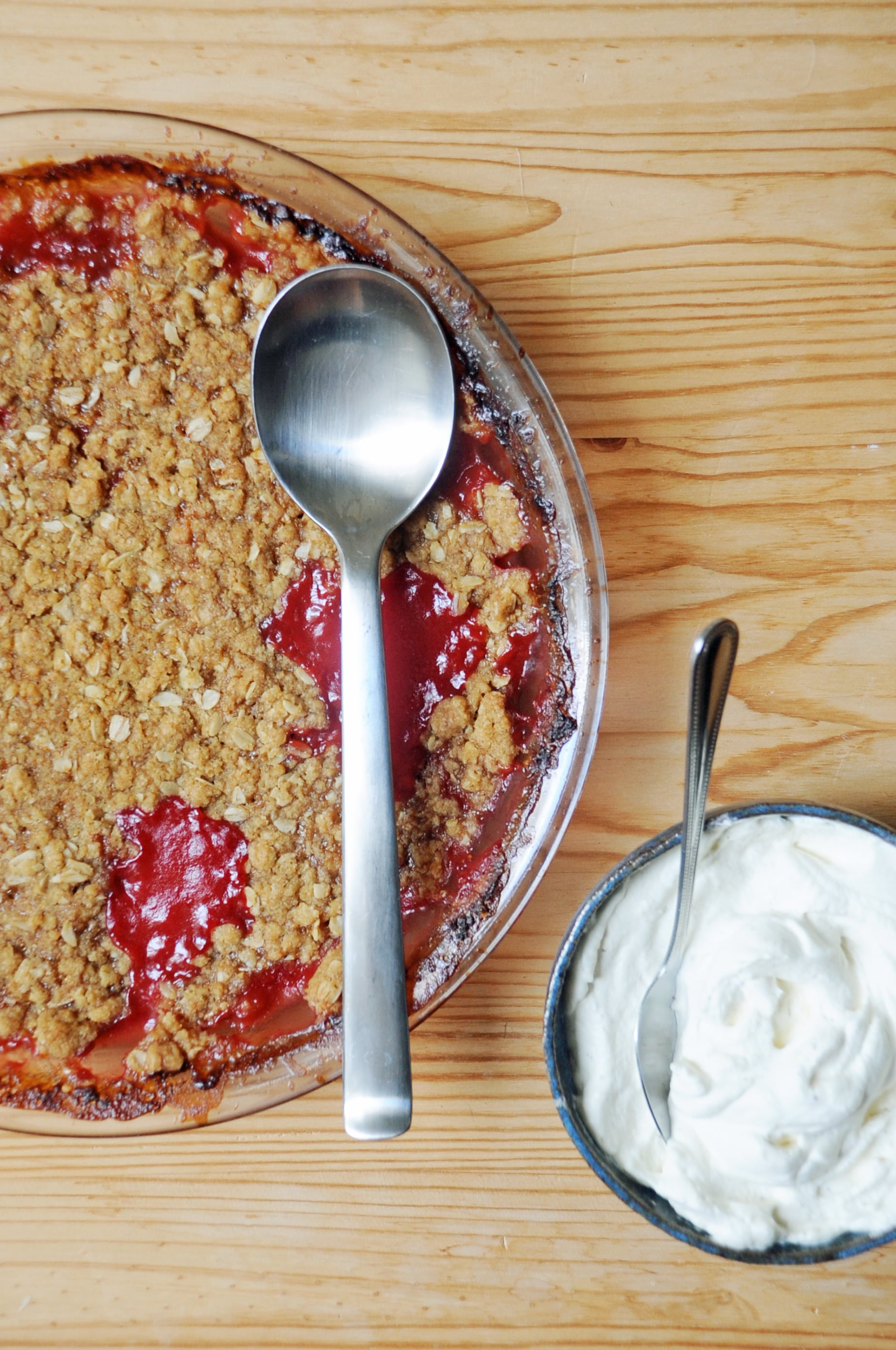 Hot-pink stalks of rhubarb and rosy-shouldered strawberries practically beg to be simmered together; add perfume-like cardamom to the mix, and it's hardly surprising that this crumble is a keeper. Even better, it's a low-effort proposition, perfect for casual entertaining or baking up as a spontaneous treat for oneself.
Particularly when working with cardamom, make certain to grind the spice fresh, as it rapidly loses its fragrance once pulverized to a powder. Other than that, this recipe is simple, satisfying, and more than worth the minimal effort expended — try it yourself tonight.
Ingredients
1 pound rhubarb, cut into 1/2-inch pieces
8 ounces strawberries, hulled and halved, larger strawberries quartered
1/2 cup (3 1/2 ounces) granulated sugar
The zest of 1 orange, plus 1/2 cup freshly squeezed orange juice
1 green-skinned pear, cored and grated (including the skin)
Kosher salt
3/4 cup (3 3/4 ounces) all-purpose flour
1/2 cup (4 ounces) dark brown sugar
1/2 cup (2 ounces) rolled oats
3/4 teaspoon freshly ground cardamom, divided
8 tablespoons (4 ounces) unsalted butter, cubed and chilled
1 cup heavy cream, chilled
2 tablespoons powdered sugar
1/2 teaspoon vanilla extract
Directions
Preheat the oven to 350°F.
Add the rhubarb, strawberries, granulated sugar, orange zest and juice, and a pinch of salt to a small saucepan. Cook, stirring occasionally, over medium-high heat until the juices are beginning to run but the rhubarb still holds its shape, about 5 minutes.
Remove from the heat, and stir in the pear. Transfer the mixture to a 9-inch ceramic or heatproof glass pie dish. Let cool while you prepare the topping.
In a medium-size bowl, whisk together the flour, brown sugar, rolled oats, 1/2 teaspoon kosher salt, and 1/4 teaspoon cardamom. Add the butter, and rub the mixture together with your fingers until the butter is incorporated and the mixture has a crumbly texture.
Sprinkle the topping over the filling. Place the pie dish on a baking sheet (in case the filling bubbles over) and bake until the topping is dark golden brown and the rhubarb is bubbling, about 1 hour.
Meanwhile, combine the cream, powdered sugar, the remaining 1/2 teaspoon cardamom, and vanilla in a mixing bowl and beat with an electric beater until stiff peaks form.
Serve the crumble warm with a dollop of cardamom cream.
Serves 6-8.
Information
Category

Fruit, Desserts

Cuisine

North American