Strawberry Shortcake Parfait Recipe
Berry Tempting: Strawberry Shortcake Parfaits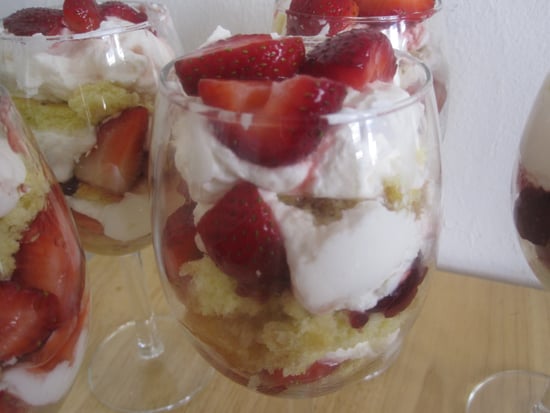 One of the best things about the Spring and Summer is the delicious plethora of in-season fruit, particularly berries. A perfectly ripe berry is like a jewel — rich, beautiful, and addictive. This year we're celebrating the bite-sized world of berries by featuring a different berry each month. May is devoted to, yep you guessed it, strawberries!
Let us begin by rethinking a quintessential strawberry dessert. Everyone loves the combination of berries, biscuits, and whipped cream in strawberry shortcake and for a recent dinner party, I translated this concept into parfaits.
I layered sponge cake with whipped cream, simple syrup, and fresh berries. With each bite a little different, the resulting dish is absolutely divine: the cream is pillowy and light, the berries juicy and sweet, and the cake airy and moist. To look at the crowd-pleasing recipe,
.
Strawberry Shortcake Parfaits
From Katie Sweeney
Ingredients
1/4 cup granulated sugar
1/4 cup water
1/4 cup Kirsch
2 pints strawberries, hulled and sliced into bite-sized pieces
1 1/2 cups heavy whipping cream
1/4 cup sugar
1 teaspoon vanilla extract
1 store bought pound cake, angel food cake, or sponge cake or homemade sponge cake
Directions
Bring granulated sugar and water to a boil in a small saucepan, stirring until sugar dissolves. Remove from heat, and stir in Kirsch. Let cool. Syrup will keep in an airtight container for up to 1 month.
Combine the berries with 2 tablespoons of syrup in a large bowl. Set aside.
With the whisk attachment on a standing mixer, beat the cream. While whisking, add the sugar and vanilla. Beat on high speed until stiff peaks form.
Place six wine glasses (or other festive glasses) on a work counter. Cut the cake into small pieces that will fit inside the glasses.
To build the parfaits, place a piece of cake in the bottom of a glass. Drizzle with syrup, top with 2 teaspoons of berries, and a generous dollop of whipped cream. Repeat with the remaining ingredients, layering cake, syrup, berries, and cream until the glasses are full.
Chill until ready to serve.
Makes 6.
Information
Category

Fruit, Desserts

Cuisine

North American