Stretch Island Fruit Chews Review
Stretch Island Fruit Chews: An Update on a Longtime Favorite
Do you have a nostalgic love for Stretch Island's classic fruit leathers but wish they came in a less sticky and therefore more convenient form? Then the latest addition to the brand's fruit-snack family might just be for you.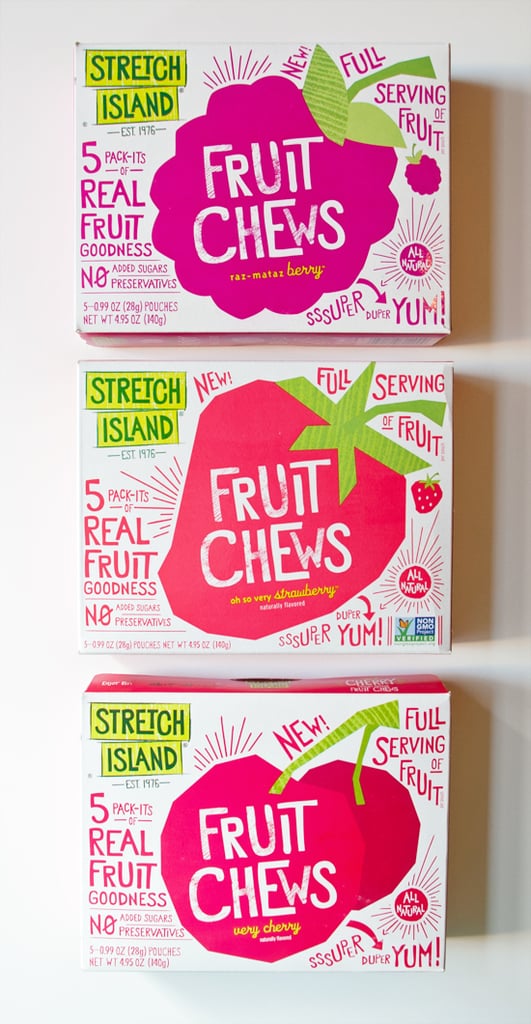 Similar in size to more traditional fruit snacks but with a texture and flavor consistent with the wholesome snack company's other products, these fruit chews are easy to eat on the go — and a boon to those with a busy lifestyle.
We rallied our tasting panel to ask for their thoughts on Stretch Island's fruit chew flavors.
Stretch Island Oh So Very Strawberry Fruit Chews
Tart and tangy with a true-to-life dried strawberry flavor, these tiny fruit chews were a fast favorite among our tasting crew. Most found that they successfully captured the essence of strawberry and were enticing — even dangerous. As one taster put it, "I could eat 500 of these — but that might be the problem."
Tasters' average rating:

Keep reading to find out how the cherry and raspberry iterations fared.
Stretch Island Very Cherry Fruit Chews
Not quite a love-it-or-hate-it product, Stretch Island's cherry option was described at best as inoffensive and slightly bland. While once again these were dinged for their grainy texture, it was a slightly medicinal, artificial cherry note that turned off most tasters (though some found this a nonissue). That said, we still finished up the box; we just might not seek out a second.
Tasters' average rating:

Stretch Island Razz-Mataz Raspberry Fruit Chews
Tasters were split on whether these tangy chews lived up to their namesake fruit flavor, though even those who found them less raspberry-intensive still kept on snacking (the lowest score the snack earned was a 3). Some enjoyed that, while these had a spot-on raspberry flavor (at least in their eyes), they eliminated dried raspberries' greatest nuisance: an overload of tiny, pebbly seeds.
Tasters' average rating:

Overall, while most enjoyed sampling these fruit chews, many tasters had a gripe with their texture. Complaints ranged from finding them oddly crunchy, grainy, or sandy to thinking they were overly firm. They're a whole different beast from the archetypal cartoon-character-shaped fruit snack, but if one can embrace their slightly leathery texture, then they're a winning snack option.