Stuffed Peanut Butter Chocolate Chip Cookies YumJimmy recently had a birthday, and to help him celebrate, I thought I'd send him off to work with some sweet treats for his co-workers. Last year's treat was an intense labor of love, so this year I decided to take it easy.
I was inspired by the million-dollar winning Pillsbury Bake-Off recipe and used it, along with a delicious peanut butter recipe from Melissa Murphy's new book, to come up with some treats. The cookies are deliciously chewy peanut butter cookies, with chocolate chips and a surprise mini Reese's Peanut Cup in the middle. To make these treats for yourself,
.
I used the recipe below and made three different types of cookies. First I used 1/3 of the dough and made regular peanut butter cookies as instructed. Next I used another 1/3 of the dough and shoved a mini peanut butter cup in the middle. Finally I used the last of the dough, added a few handfuls of chocolate chips, and then shoved a peanut butter cup into that. These were the favorite, although the plain recipe is quite delicious.
The baking time didn't change: It was about 12 minutes for all three types. In total I made 18 cookies. There are captions on all of the photos if you're wondering how to make the variations.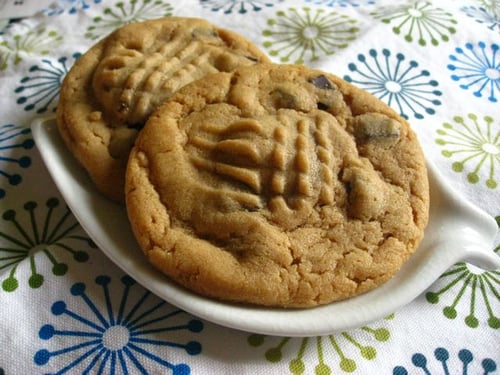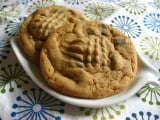 Ingredients
1/2 cup smooth peanut butter
8 tablespoons (1 stick) unsalted butter
1/2 cup granulated sugar
1/2 cup firmly packed light brown sugar
1 large egg
1 1/4 cups all-purpose flour
1/2 teaspoon baking powder
3/4 teaspoon baking soda
1/4 teaspoon salt
Directions
Position a rack in the top and bottom thirds of your oven. Preheat the oven to 325F. Line two cookie sheets with parchment paper or aluminum foil.
In the bowl of an electric mixer fitted with the paddle attachment, cream the peanut butter with the butter and sugars until light and fluffy, 3 to 4 minutes. Beat in the egg.
In a separate bowl, whisk together the flour, baking powder, baking soda, and salt.
Add the flour mixture to the peanut butter mixture and mix until combined. Be sure to scrape down the sides of the bowl so that everything is combined evenly.
Scoop dough by the rounded tablespoonful and roll into balls. Place the balls about 2 inches apart on the prepared cookie sheets, and press down slightly. Using a fork dipped in flour, press down on the cookies first one way and then the other to form an "X" pattern, creating the crosshatch effect. (The cookies should now measure approximately 2 inches in diameter.) Bake for 10 minutes, or until the edges are lightly golden. Overbaking will cause these chewy cookies to become crunchy, so try to avoid it.
Information
Category

Desserts, Cookies