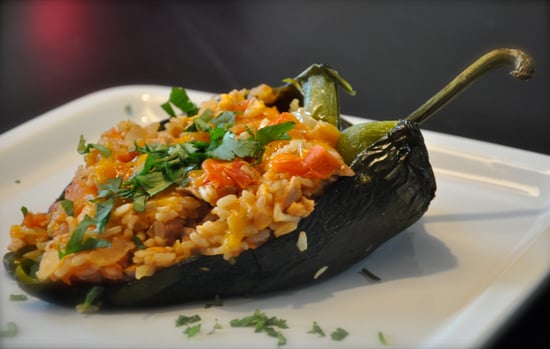 For an exceptionally easy meal, I love to roast a whole chicken and bake brown rice. Everything is cooked in the oven and in no time, you have a simple dinner. But, reheating the leftovers for the next couple days isn't appealing, so I livened up leftovers by making a scrumptious stuffed poblano.
While the peppers roast, the filling can be quickly prepared by caramelizing onions and garlic. Cook down the fresh tomatoes and season, then toss in your rice and chicken to warm. Assembling the peppers requires little time in the oven — just enough to melt the cheese. Voilà: spicy and scrumptious leftovers! Get the recipe now.
Stuffed Poblano Peppers With Chicken, Rice and Cheddar Cheese
Adapted from Fine Cooking
Ingredients
4 large poblano chiles
2 medium tomatoes, chopped
1/2 medium white onion, chopped
1 large clove garlic, chopped
1 tsp. dried oregano, crumbled
1 tsp. ground cumin
Kosher salt
1 Tbs. olive oil
2 cups shredded cooked chicken, preferably dark meat
1-1/2 cups cooked brown or white rice
2 cups grated sharp or extra-sharp white cheddar (about 7 oz.)
1/4 cup chopped fresh cilantro (including some tender stems)
1 Tbs. lime juice
Directions
Position an oven rack about 4 inches from the broiler and heat the broiler on high. Line a large rimmed baking sheet with foil.
Slit the chiles from stem to tip and set on the baking sheet. Broil, turning every few minutes, until blackened all over, 5 to 8 minutes. Let cool slightly, peel off the skins, and cut out the seed cores, leaving the stems on. Turn the chiles inside out, flick out any remaining seeds, and turn right side out. Return the poblanos to the baking sheet.
Over medium high heat in a large skillet, add olive oil. Sauté onions and garlic until fragrant. Add the chopped tomatoes, cumin, and oregano. Let the tomatoes soften for a couple minutes and use a wooden spoon to break up the tomatoes. Stir frequently until most of the liquid has evaporated and mixture looks thick and pulpy, 8 to 11 minutes.
Remove the pan from the heat. Stir in the chicken and rice, and then 1 cup of the cheese, the cilantro, and the lime juice. Season to taste with salt.
Divide the filling among the peppers, wrapping the sides of the peppers up and around the filling, some of which will still be exposed.
Broil the peppers until the cheese is melting and the top is beginning to brown, about 4 minutes. Top with the remaining 1 cup cheese and broil until the cheese is completely melted, about 2 minutes.
Serves 4.
Information
Category

Poultry, Main Dishes