Stuffed Pork Sandwich Recipe
Fast & Easy Dinner: Stuffed Pork Sandwich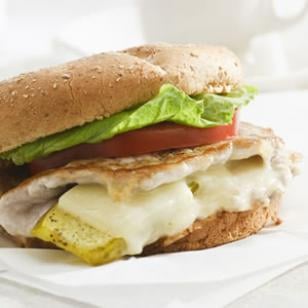 While I'm sure you've enjoyed many chicken breast sandwiches, have you ever eaten one with the other white meat? I suggest you do so tonight! This recipe is quick and delicious. Instead of simply placing a slice of cheese and a pickle on top of the boneless pork chop, the cheese and pickle are stuffed into the meat. Don't be afraid to get creative with this sandwich; substitute arugula for lettuce or caramelized onions for the tomatoes. If you're interested in this satisfying Friday night meal, get the recipe after the jump.


Ingredients
4 4-ounce boneless pork chops, 1/2 inch thick, trimmed
2 thin slices Swiss cheese (1 ounce each), cut in half
4 dill pickle sandwich slices
1/4 teaspoon salt
1/4 teaspoon freshly ground pepper
1 tablespoon canola oil
4 whole-wheat hamburger buns, toasted
2 teaspoons Dijon mustard
4 slices tomato
2 romaine lettuce leaves, cut in half
Directions
Cut each pork chop nearly in half horizontally, stopping short of the opposite side. Open each chop and place between sheets of plastic wrap. Pound with a meat mallet or heavy skillet until flattened to an even thickness, slightly thicker than 1/8 inch.
Place a piece of cheese and a pickle slice on one side of each flattened chop. Fold the chop over the filling, closing it like a book. Press the edges firmly together to seal. Season both sides with salt and pepper.
Heat oil in a large skillet over medium-high heat. Add the stuffed chops, reduce heat to medium and cook until golden brown and cooked through, 3 to 5 minutes per side.
To assemble sandwiches, spread the toasted buns with mustard and top each with a pork chop, tomato slice and lettuce.
Serves 4.
Nutrition: Per serving: 353 calories; 15 g fat (5 g sat, 6 g mono); 79 mg cholesterol; 25 g carbohydrates; 29 g protein; 4 g fiber; 612 mg sodium; 522 mg potassium.
Information
Category

Main Dishes, Sandwiches

Cuisine

North American